This Valentine's, girls get to take the leap & pop the Big Q
Go ahead, wear that heart on your sleeve
Purva Grover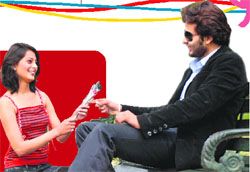 Hey girlies, here's yet another chance for you to outdo the men. This Valentine's, you are officially authorised to take the plunge. Wondering what are we talking about? Well, legend has it that in a leap year, a woman can propose to the man she loves. And yes, some even say that men aren't allowed to decline the proposal. Hmm... Now that sounds like a win-win situation girlies, what say?



photo by Pradeep Tewari
Single & healthy


SCIENTISTS have issued a warning that love puts your body through the same amount of pressure as stress. Too much adrenaline is very harmful, people, so enjoy your healthy single status! But if you must, try these out...
Love Wrapped
Getting all jittery over finding a perfect V-Day gift?
Here's a round up of the sweet nothings on city shelves
Anandita Gupta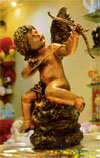 YET AGAIN, it's that time of the year when we're busy scouring the stationers' for pink cellophanes, wrapping those candy hearts, blowing up tacky heart-shaped balloons, and scribbling some soppy dooh-daas (read freaky bad poetry) on cards. For, love may be a 365-day epidemic, but aren't we all expected to take out all of our 364-day-love, air it and display it big and bold on Valentines Day. So, for all those cupid-struck lovers, who've been racking their brains for the perfect Valentine's gift, here's some inspiration. But, we promise these will warm your sweetheart's heart much more than any sweet nothings.
Predictably boring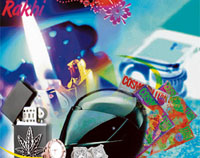 Heart-shaped cakes, teddies & balloons are dumb V-Day gifts!
Purva Grover
ALL excited to celebrate the Hallmark Day or the Archies Day, oops we mean the Valentines Day? Hmm… if the thought of what to buy for your sweetheart hasn't begun to trouble you yet, this piece is for you. And especially for those who'll thoughtlessly drop by the gift shop on the D-day and waste money over anything that's there on the shelves. Well, we are not going to tell you what to buy for your sweetie pie or coochie pie . Rather, we've compiled for you a list of the things that you should just not buy.
Red packaging is not passé when it comes to Valentine's Day perfumes
Scentsational
Anandita Gupta


Isn't romance all about a feeling that lingers on our senses and consequently in our memories for a long time? A sweet sensation that delights and tickles, time and again! No wonder when it comes to celebrating and recreating the romance in our lives, nothing can be more powerful than a perfume. Call it a magical fragrance, a soft, subtle scent or a sensational seduction. But the fact remains that the power of perfume, as a perfectly heart-warming Valentine gift, remains unconquerable. We scour the city's fragrant lanes for stores that are stocking a real 'scentsational treat.' And well, our sweet smelling picks of the season are right here, just for you:
Luv & Roses...
There is no rule that says all roses exchanged on the day must be red. Buying yellow roses for a person who loves them only shows great understanding!
Parbina Rashid


Bigger the better, seems to be the mantra for our lovebirds. For, is there any better way of saying 'I love you' other than with a bunch of flowers? And if the bunch happens to be a 5-feet-tall lifestyle basket of multicoloured roses or a simple bouquet of 1,000 red roses, it certainly helps the receiver to decipher the depth of one's emotion.
Will You Marry Me?
Think out of the box before you pop the question
Purva Grover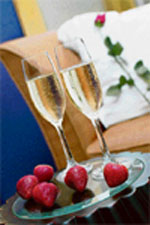 ROSES, candies, cakes, candlelight dinners...Phew, how can you just fall in the rat race on this day too and just let the special moment pass by? Come on, on this one day you can think differently! And if you can't, then take a clue from a few ideas we've compiled for you.
How not to pop the question
A few proposal ideas that are a complete no-no
Purva Grover
OKIE, now when there are rules to propose, then there have to be rules of how not to propose. We spoke to the city's 'in love' individuals and laid down a few of them.
Love's in the air!
Love is like playing the piano. First you must learn to play by the rules, then you must forget the rules and play from your heart
Kandla Nijhowne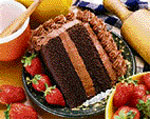 ONCE again, the time has come for heart-shaped candies, exquisite greeting cards, boxes of chocolates, and beribboned bouquets! Valentines Day is all about expressing our love for the ones we care for, be it friends, spouses, or parents, but somewhere along the line, it has become monopolised by young generation, eager to ask the all-important question: "Will you be my Valentine?"
Dress me hot!

Anandita Gupta
Attention love-struck guys and gals. Most of you may be fashion loyalists to the core, but hey, it's Valentine's Day and you can't take any chances. While spending time with your beloved on this special occasion, you need to be dressed just right. Here are a few fashion sins you must avoid:

Swanky offer
Hilary Swank has signed on to star as legendary pilot Amelia Earhart in Mira Nair's film Amelia. Screenwriter Ron Bass turned in the script just before the writers' strike had begun. The film is set to cover the early days of Earhart's career, when a society dame called Amy Guest set up a non-stop flight across the Atlantic and sought a female pilot. —ANI