Jaunt-y babus cost you Rs 50 lakh
Aditi Tandon
Tribune News Service
Chandigarh, February 11
Austerity has no place in the cash-rich Chandigarh administration. So seems from the way it has been footing hefty foreign travel bills of senior bureaucrats, who live life king size when abroad.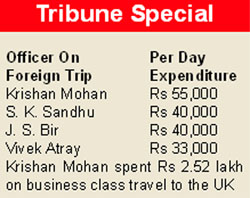 UT babus have blown up public money to the extent of Rs 50 lakh on their frequent foreign jaunts. While home secretary Krishan Mohan leads the pack having splurged Rs 19 lakh on four visits abroad, his junior Vivek Atray tops in making the maximum foreign visits, spending Rs 16 lakh in all.

Former finance secretary S.K. Sandhu during his four overseas trips spent about Rs 9.5 lakh, while CITCO managing director J.S. Bir spent about Rs 4 lakh on his solitary trip to Europe.

Information technology (IT) director Manjit Brar also made a three-day visit to the US; it cost the exchequer Rs 1lakh.

Ever wondered how and where precious public resources were drained? A study of 200 pages of travel bill claims of UT officers obtained by R.K. Garg, a Sector 27 resident, under the RTI Act, reveal startling facts.

While a common man would look for the cheapest air ticket and hotel accommodation abroad, UT officers opt for the opposite. The home secretary spent a whopping Rs 55,000 per day while abroad; Sandhu and Bir Rs 40,000 a day each; Atray spent Rs 33,000 per day on foreign land. Most bureaucrats took their families along; splurged on airfare and local travel, hiring cabs as many as five times in a day.

Where economy return air ticket to any destination in Europe costs around Rs 30,000, Krishan Mohan spent an exorbitant Rs 2.52 lakh on business class travel to the UK from November 3 to 12, 2006, for attending World Travel Mart (WTM), London, along with a study tour to Paris.

Last year, his air ticket to WTM London cost Rs 2.30 lakh; it was Rs 1.85 lakh when he travelled for International Tourism Bourse (ITB) to Berlin in March 2006.

Krishan Mohan, however, travelled on ordinary air ticket of Rs 36,812 when he went for WTM in 2005, his first foreign trip after joining the UT.

During this eight-day visit to London and Paris, he spent Rs 2.13 lakh. A year later, the cost of the same tour tripled to Rs 6.49 lakh. In 2007, he again spent Rs 5.79 lakh on his eight-day tour to WTM, London, and a study tour to Rome and Venice.

In March 2006 Krishan Mohan went for the ITB to Berlin and a study tour to Zurich, Vienna and Amsterdam. He spent another Rs 4.32 lakh. On this tour he was accompanied by the CITCO MD.

Atray's air travels are no less expensive though he travelled by economy class. He spent Rs 1.53 lakh on his air ticket to attend WTM, London, in November 2006; Rs 1 lakh to travel to Paris for a heritage conference in September 2007; another Rs 1.42 lakh to travel for WTM, London, and a study tour to Europe last year. Interestingly, his air ticket cost Rs 1.24 lakh in March last when he travelled by business class to attend the ITB in Berlin.

The UT babus spent generously on ultra-luxury stay in four/five-star hotels at every destination. Krishan Mohan and Atray's hotel bills cost the administration Rs 2.19 lakh each for their eight-day stay in London, Venice and Rome during the WTM in 2007.

These officers had spent even more a year earlier - Rs 2.9 lakh each on hotel accommodation for a nine-day stay in Edinburg,

London and Paris. Their travel claims to not carry the requisite permission and purpose for the Edinburgh trip. Earlier during his March 2006 visit to the ITB in Berlin and a study tour to Europe, Krishan Mohan spent Rs 1.65 lakh on his nine-day stay in five-star hotels.

Bir's hotel bills during his 12-night stay in Europe cost the state coffers about Rs 2 lakh.

Most officers were accompanied by families on official foreign jaunts. Every penny spent on stay, travel, food and entertainment (shows/movies/theatre tickets and guided tours) was reclaimed from the state exchequer.

Travel bills indicate that Krishan Mohan and Atray hired the highest-end hotels costing Rs 38,500 per room per night, or Rs 34,500 per room per night in London; in Edinburgh they hired a room per night at the rate of 34,500 each. In Venice again each of the two officers stayed for Rs 26,500 per room per night; in Rome each spent Rs 18, 000 per night on hotel accommodation; in Paris the cost was Rs 25,000 each.

Their bills further indicate that hotel rooms did not have single occupancy on many occasions; in the travel claims too, there is proof of Krishan Mohan, Atray and Bir travelling with families on some official trips.

Inquiries made at the hotels where these officers stayed further reveal that good rooms were available at cheaper rates.The officers, however, preferred high-cost accommodation in London, Edinburgh, Paris, Zurich, Berlin, Vienna, Amsterdam and Rome.

Incidentally, UT's officers travelling abroad use the services of only one Sector 17-based travel agent-Khanna Enterprises. None of the officers has under the RTI provided original hotel bills to confirm their stay in the hotels or original air tickets/boarding passes on which they travelled.

Travel claims have been made on the basis of travel agents' bills; they have been passed despite UT administration's orders mentioning that officers would be reimbursed expenses against production of bills in respect of room rent, local transport etc.

Interestingly, Khanna Enterprises has, on the behalf of client officers, charged the administration heavily on many occasions. For instance, Krishan Mohan and Atray through the travel agent claimed a visa fee of Rs 7,500 for the UK ,Rs 6500 for Italy, Rs 11,271 for UK/France and Rs 6,000 for France on separate occasions.

Atray for his part claimed visa fee twice within three months. Though he travelled from September 9 to 15, 2007 to France and claimed Rs 6,000 for his France visa, he again claimed Rs 6,500 for the Italy visa and Rs 7,500 for the UK visa when he travelled in November the same year.

At many places, along with visa/ticket fee, the travel agent has slapped heavy service charges, duly reimbursed.

Interesting to see is another of Vivek Atray's claims — 300 pounds for hiring a hostess at the WTM, London, last year. No supporting bill for this service accompany his claims.

In many cases, Atray and Krishan Mohan have made claims against expenses for which no bills have been produced.The officers have simply stated "bills lost". On his trip to Berlin in March 2006, Krishan Mohan got his entire family insured on UT's expense.

Strangest part of the officers' foreign trips are their so-called "tourism study tours", which have borne no fruit for the city, either by way of promoting it as a tourist destination abroad or by improving its tourism infrastructure at home.

The officers are serving the UT administration on deputation temporarily. They will soon be returning with their "rich experience" to their parent states of Punjab and Haryana.

Long struggle for information

It took Sector 27 resident R.K. Garg five months to get information regarding foreign trips of UT officers along with details of their travel expenses (TA bills).

He has still not got the original bills of hotel accommodation and air travels. Information technology department for its part is yet to provide details of travel expense/TA bills of former IT secretary S.K. Sandhu, former IT director Vivek Atray and present IT director Manjit Brar.