CUBICLE COMPANIONS
Amy Joyce
Cupid in the cubicle may lower love-struck employees' productivity, as some studies indicate. But having an office spouse may mean workplace 'better halves' beget better results, say others.
When someone calls Julie Eyerman at work, Brad Mislow may be in the background, commenting on the conversation. And why not? They work together everyday, and have for eight years, at a major advertising firm.

Love bites into work
When cupid strikes at the workplace, it might bring two hearts together, but it adversely affects the speed and quality of work, according to a recent survey. As per a report on "Romance at Workplace" by Teamlease Services, India's leading staffing company, at least 56 per cent of the respondents felt there was a negative impact on the quality and speed of work due to romantic liaisons at offices. Several factors lead to an office affair, including long work schedules and proximity with colleagues.



Smart Skills
Tried and tested
Usha Albuquerque
With exams around the corner, most students are glued to their books, forgoing outings, TV watching, meeting friends and all other distracting activities. Many are worried and anxious about the board exams coming up shortly.



Indian makes it to world's top 50 headhunters list
Finding the right talent may be a major concern for India Inc, especially in the IT space, but an Indian has been named among the world's 50 most influential headhunters by renowned financial publication BusinessWeek.



Falling reserves
1 lakh staff short in public sector banks
The country's public sector banks have a shortage of one lakh employees and the shortfall needs to be filled up immediately to cope up with rapid expansion plans and provide better customer services, an employees body said.


Careercature
Sandeep Joshi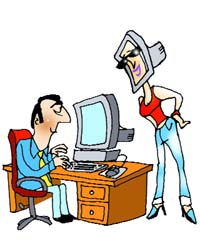 If you lift your eyes, you will notice much better options offline.

Worldwatch
UAE needs more workers
In what could help Indians seeking employment in the UAE, the gulf country is witnessing a boom in the real estate sector with estimates showing that the number of workers needed by it would double in the next five years to six million.
Career Hotline
Add value to skills
Pervin Malhotra
Q Can you please tell me something about the Mathematical Sciences Foundation in Delhi? What courses does it offer in Maths?
— Kiran Khosla
Interest in IP
Lawful pursuit

Plough prospects
Counting your choices