Trends
Fabric makes its own power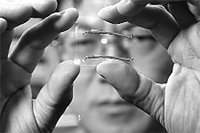 U.S. scientists have developed a microfiber fabric that generates its own electricity, making enough current to recharge a cell phone or ensure that a small MP3 music player never runs out of power.
If made into a shirt, the fabric could harness power from its wearer simply walking around or even from a slight breeze, they reported Wednesday in the journal Nature.
"The fiber-based nanogenerator would be a simple and economical way to harvest energy from the physical movement," Zhong Lin Wang of the Georgia Institute of Technology, who led the study, said in a statement. — Reuters
Rare bird found in Myanmar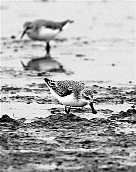 Eighty-four spoon-billed sandpipers have been discovered in a coastal stretch of Myanmar, offering hope for saving the endangered birds, a conservation group said Thursday.
The discovery in early February comes only months after Russian researchers reported that numbers of the tiny birds — with speckled brow feathers and a distinctive spoon-shaped bill — had dropped 70 per cent in the past few years in their breeding sites in Siberia and none had been seen this year in their traditional wintering sites in Bangladesh, Britain-based conservation group BirdLife International said.
The World Conservation Union lists the bird as endangered with only 200 to 300 pairs left in the wild. — AP
Dino that ate like sharks
Fossils from two newly discovered meat-eating dinosaurs that lived in the Sahara Desert 110 million years ago paint a fearsome picture of life in Africa's Cretaceous period, which appears to have been teeming with unusual carnivores.
University of Chicago paleontologist Paul Sereno unearthed Kryptops palaios, a short-snouted, hyena-like beast, and Eocarcharia dinops, a shark-toothed, bony-browed killer in a 2000 expedition.
Both were about 25 feet in length — and on the prowl for meat. — Reuters
Bats could fly before "radar"
A fossil found in Wyoming has apparently resolved a long-standing question about when bats gained their radar-like ability to navigate and locate airborne insects at night. The answer: after they started flying.
The discovery revealed the most primitive bat known, from a previously unrecognised species that lived about 52 million years ago.
Its skeleton shows it could fly, but that it lacked a series of bony features associated with "echolocation," the ability to emit high-pitched sounds and then hear them bounce back from objects and prey, researchers said. — AP