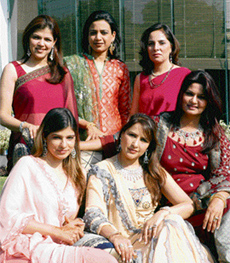 Dazzle-worthy
Lighting up their personas with panache is a daring dose of delicious diamonds!
If Stone Age inhabitants ever decided to leap out of those voluminous history books and visit our city, they'd surely find themselves in 'glittering' company (pun intended). No, we aren't using diamonds to create rock engravings, as this civilization did. However, the tri-city's fast emerging as the fastest growing hub of diamond consumption. No wonder, our swish set obsesses over stones, priced enough to make even the most generous of spouses snort. We peep into their jewellery boxes to catch a glimpse of the fabulous world of fantasy that lies inside.
In full bloom
Two young floriculturists successfully experiment with exotic flowers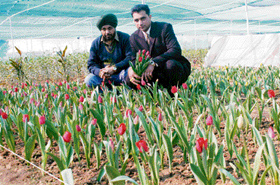 "No more florists and flower stories (unless of course, the usage of 'Bloom' is for Orlando Bloom!)" The resolution spins in my head over and over again. For, Valentine's Day is finally over (and thank God for that!) and all the possible flower stories have been churned out. But then, the office phone refuses to stop ringing. Some florist's on the line and my colleague tells me he's growing something 'interesting'. So hesitantly, I take the call. Twenty minutes later, I pack away the day's boredom, inhale a (already flower-scented!) whiff of fresh air, and am on my way to this florist's farm Farming Roots. For, whatever this florist is growing, is indeed interesting. Yes, very interesting!
Masala Mar Ke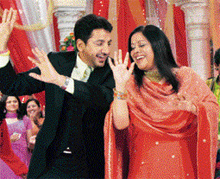 Scriptwriter-turned-director Pammi Somal is now concentrating on commercial cinema
You cannot be associated with Bollywood for more than two decades and not get affected by it. The industry may affect the way you think and project yourself or even the way you live. But when Pammi Somal gets affected, she makes a film. No, not the likes of Mummyji, the Chandigarh-oriented film, which received rave reviews, but a pure fun and masala film — Bollywood Biwies and to quote Pammi, 'the name says it all'.
Pammi Somal & Gurdas Maan in Mummyji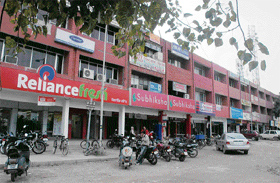 All in the neighbourhood
For the southern sector residents, shopping for more than just the necessities is just a locality away. As Sector 38 is fast bagging the distinction of a 'business district', they can now actually look for style and pleasure without really getting behind the steering wheel of their sprightly cars.
Photo by Parvesh Chauhan
Youth Speak
The media bomb


The new era of media is rising. Yes, it's the fast emerging paparazzi culture. So what really is it? Is it really contributing to the society? Or is the standard of media really stooping down? These are some unanswered questions that need to be addressed. And now, let's talk about electronic media. We are already bombarded with 10 to 12 news channels and the number is constantly increasing. Oh, there's this channel that was recently showing a clipping about how the image of lord Hanuman was seen on a neem tree.
Like sister, like brother
Paris Hilton's younger brother Barron seems to be following in her sister's footsteps. He was arrested on suspicion of drunken driving. The 18-year-old was apprehended in Malibu, California, after a witness reported seeing his black Mercedes-Benz swerving into a gas station on the Pacific Coast Highway. According to the witness, Barron was driving around the station in circles, chased by two men in a grey pickup who eventually confiscated his keys.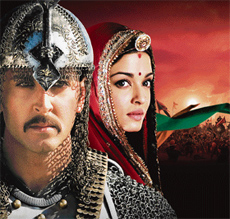 New releases
The Power of Love
JODHA AKBAR
Starring: Aishwarya Rai Bachchan, Hrithik Roshan
Director: Ashutosh Gowariker
JODHAA Akbar is a sixteenth century love story about a marriage of alliance that gave birth to true love between Mughal emperor Akbar and Rajput princess Jodhaa. Political success knew no bounds for Emperor Akbar (Hrithik). After having secured the Hindu Kush, he furthered his realm by conquest until his empire extended from Afghanistan to the Bay of Bengal, and from the Himalayas to the Godavari River.


BIG PICTURE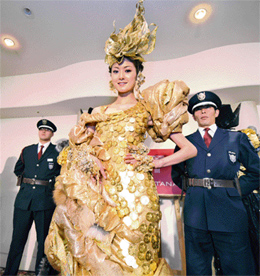 GORGEOUS IN Gold: A Japanese model walks the ramp in a $ 265,000 dress under the watchful eyes of two security guards. The dress has been made by a Tokyo jeweller and is embellished with 325 Austrian gold coins!

Sidelanes
Big Bro is watching
THIS is one of the most calming dentistries I have seen in a long time. All over, at strategic, very visible corners, a very tall, handsome gentleman greets us. It's the same photograph in all related facilities. He has wonderful features that would make most women swoon. However, deep down, from my postgrad days, I recall Aldous Huxley's Brave New World. Mr Gorgeous is watching all of us and we cannot ever forget that. That is why his hospitals run so well. Perhaps Sansad Bhavan requires a combined version of Krishna Menon and Indira Gandhi to remind us to behave ourselves or else
The peace within
The artist in him is in search of peace and it reflects in all his frames. Somber and serene, Sudipta Tewari's meditative figures have the capacity to enchant and seduce. Classical faces in black and white come as a refreshing change, breaking the monotony caused by abstract paintings, the toast of almost all major art shows that happened in the city recently.
Rising Star
Street Smart
"Donating blood for more than 52 times is not for setting up a record but simply obeying the dictates of my inner-self ," maintains noted theatre actor Yogesh Kumar. He holds that a true artiste should have the knowledge of our cultural heritage and a vision to imbibe the ethics of life and bring it out on stage.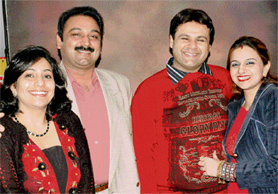 Smile please!
Gripped totally by Valentine's fever, these twosomes were all eyes for each other…looking endlessly into each others' eyes…oops teeth (with their happy gazes pointed a little downward), as they smiled their best 1000-watt smiles. The glow on their faces said it all, but it was their unmistakable pearly whites, which helped them win each other's hearts, and well, prizes on the Valentine's Day.


It was a day to smile & win
Aromatic Rampur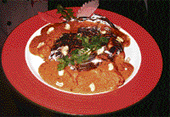 What sets Rampuri cuisines apart is its characteristic aroma attained by a mixture of special herbs and spices. If you want to have a first hand experience, Moti Mahal-17 is to be in. The 10-day Rampuri Food Festival is starting here from February 15, 2008.

The place has roped in Shaukat Ali Quereshi (ex-Maurya Sheraton chef) and his team.

Why women get easily depressed?
A new study has shown that that the brain's serotonin system differs between men and women, leading researchers to state that this might be the reason why depression and chronic anxiety are more common in the fairer sex. Serotonin is a brain neurotransmitter that is critical to the development and treatment of depression and chronic anxiety, conditions that, for reasons still unknown, are much more common in women than in men.

Rebirth with Rebirth
Fans of desi Pop have another reason to rejoice now. Raj Brar, former producer and lyricist of Punjabi songs, and presently a Punjabi cultural singer, has come up with his new album — a mix of folk plus pop music. Valentine's Day saw Frankfinn Entertainment Company Private Limited launching Brar's latest offering 'Rebirth'. The album was launched in collaboration with Honey Singh.