M A I N N E W S

Kidney Scam


ASI, six other cops booked
For Rs 19.85 lakh, the ASI had let off Upender, a crony of 'Dr Horror'
Sandeep Yadav
Tribune News Service

New Delhi, February 15
The Crime Branch of Delhi police today arrested an assistant sub-inspector (ASI) of the Delhi police Ravinder Kumar Singh for extorting a sum of Rs 19.85 lakh from Dr Upender, one of the main accused in the kidney scam, and letting him off on January 7.

According to additional commissioner of police (crime) Satyendra Garg, apart from ASI Ravinder Kumar Singh, the team which extorted money from kidney racketeers involved two head constables and four constables of the Delhi police.

The six other accused are head constables Devender Singh and Vijay Bahadur, constables Naresh Kumar, Kaleem Beg, Surender Rathi and Rakesh Kumar. All seven were Central District Special Staff officials.

While Ravinder Kumar was arrested right after interrogation at the Crime Branch office, the other six managed to dodge the Crime Branch teams.

"Only ASI Ravinder could be arrested as the rest had fled. Raids are being conducted at the homes and other premises of these accused," said Garg.

A case has been registered against all seven under Sections 384, 389, 342, 120B of the IPC. Dr Upender Aggarwal, the Ballabhgarh-based physician, was the first to be arrested after the scam was unearthed on January 24 by the Uttar Pradesh police.

Head constable Devender Singh, one of the accused who is on the run, was posted at the Nizamuddin police station when Dr Amit Kumar, the kingpin of the racket, was arrested in 2001 and a case was lodged against him for illegal organ transplant. Amit was later released on bail.

The Crime Branch of the Delhi police had initiated an investigation into the matter after the Gurgaon police had alleged that officials of the Delhi police had accepted bribe from the doctors involved in the scam.

ASI Ravinder Singh has accepted to taking a bribe of Rs 19.85 lakh after his team had arrested Upender from Gurgaon on the night of January 7. They brought the doctor to Delhi and let him go after the payment.

"Upender had arranged the money while he was in the custody of the accused police team. The exchange of money took place at Connaught Place," Garg said.

The officer refused to comment when asked whether this team had arrested Upender without the knowledge of senior police officials. "The investigation is at a very preliminary stage and it is too early to say anything in this regard," Garg said.

PTI adds: Ravinder Kumar Singh was produced before additional chief metropolitan magistrate A.K. Kuhar who remanded him to judicial custody till February 18.

All policemen have been placed under suspension and a case under charges of extortion, wrongful confinement and criminal conspiracy has been slapped against them.

Additional commissioner of police (Crime Branch) Satyendra Garg accepted that if the bribe money had not been taken, the racket would have been busted much earlier.

In Jammu, a CBI team searched the house of Poonam, the second wife of Amit Kumar, and questioned his in-laws to know the whereabouts of the doctor's family members.

Amit trained in Asr?
Varinder Walia
Tribune News Service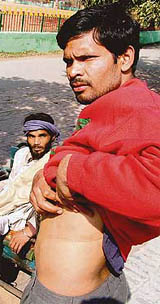 Migrant labourer Inderjit Kumar shows a cut on his body after his kidney was allegedly removed in 2001. A beggar, who took care of Kumar after the organ transplant, is also seen in the picture. — Photo by Vishal Kumar
Amritsar, February 15
Had the kingpin of the multi-crore kidney racket, Dr Amit Kumar, a graduate in ayurvedic medicine, got training in organ transplant at Amritsar?
Much before Gurgaon, Amritsar was the hub of a kidney racket. The trade flourished with the connivance of doctors and officials, even before the enactment of the Human Organ Transplantation Act 1994.
Local surgeon Dr P.K.Sareen, currently on bail, had reportedly started the kidney transplant in the early nineties.
If the sensational "revelations" of migrant labourer from Bihar Inderjit, who was thrown in a sub-conscious condition after the "robbing" of one of his kidneys in the local Gol Bagh in 2001, are to be believed, Dr Amit used to visit a charitable hospital here frequently. However, Pradip Saini, administrator of the local Kakkar Hospital, said he could not answer questions regarding this, as he was not linked with the hospital at that time. Dr Sareen, meanwhile, could not be contacted despite repeated efforts.
Inderjit Kumar, a resident of Kala Matonia, district Gopal Ganj, Bihar, said it was Dr Amit Kumar, who had removed his kidney under the supervision of local doctors at the charitable hospital.
"I recognised Dr Amit after seeing his picture in newspaper," he quipped when asked how he could claim that it was Dr Amit who performed the operation.
In front of camera, Inderjit alleged that some kidney hunters (middlemen and musclemen) lured him to accompany them when he was having langar at a temple in 2001. "They took me to an unidentified house with the promise to give me better food". He, however, refused to part with his organ when they offered him Rs 50,000.
He claimed that they started beating him and even electric shocks were given to him to intimidate him.
After losing his kidney, his health deteriorated and he was kicked out without a penny in his pocket. After the "forcible operation", he found himself at Gol Bagh.
An eunuch, "Baba Shama", came to his rescue and collected some money for his "post-operative care".
Inderjit took some mediapersons to Gol Bagh, where he was allegedly kept after the removal of his kidney.
He alleged that he went back to his home state and returned to Amritsar in 2006.
Kunwar Vijay Partap Singh, district police chief, meanwhile, said that he had not yet received any complaint from Inderjit so far. However, he said action would be initiated after any formal complaint.
It may be recalled that in January 2003, the Punjab police had arrested Dr Sareen, the then chief transplant surgeon at the Ram Saran Das Kishori Lal Charitable Trust Hospital in Amritsar, Dr O.P. Mahajan, head of the city's Government Medical College and head of the authorisation committee, and his colleague, Dr Jagdish Gargi. They were the first-ever doctors to be arrested in connection with trading in human organs.

CBI raids Amit's in-laws house
Tribune News Service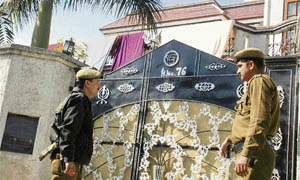 Policemen stand outside the house of Dr Amit's father-in-law Sham Lal Saini in Digiana on the outskirts of Jammu on Friday. — Tribune photo by Anand Sharma
Jammu, February 15
A team of the Central Bureau of Investigation (CBI) today raided the rented accommodation of the father-in-law of kidney racketeer, Dr Amit Kumar, at Digiana this morning.
Amit Kumar's, father-in-law Sham Lal Saini has been putting up in a rented accommodation at Digiana. The CBI team swooped down on him during the wee hours and whisked him away to an unidentified location. A Jammu-based CBI officer said, "The team raided house number 76 in lane number 2 of Digiana this morning to question Dr Amit's father-in-law."
He said, "The team has come from Delhi to know when Dr Amit last visited Jammu and to see whether the well-knit racket had its roots in Jammu and Kashmir as well." "Though Dr Amit is in our custody yet his younger brother and co-accused Jeevan Kumar besides, driver Amit Dhiman, are still absconding," he added. Sleuths at the Jammu-based CBI office had already conducted a raid to know the whereabouts of Dr Amit's driver, Amit Dhiman, who married Poonam's younger sister Naina.
"Sham Lal Saini's younger daughter Naina has married Dr Amit's driver Amit Dhiman and is putting up in Amritsar," said CBI sources, adding, "However, they have not been traced so far."
Saini's daughter Poonam had joined Amit Kumar as a receptionist at his Malviya Nagar clinic in 1995 and later they both married.
She along with her two sons has been living in an affluent Toronto suburb in Canada. Dr Amit is alleged to have performed over 600 illegal kidney transplants. On the run ever since the kidney racket was unearthed, the CBI finally laid its hands on the alleged kingpin after he was arrested by the Nepal police from a hotel last week.
Meanwhile, ASI, Delhi police, Ravinder Singh was arrested today on the charges of taking money to let off one of the key accused in the sensational kidney racket.