Punjabi antenna
Humour at its best
Randeep Wadehra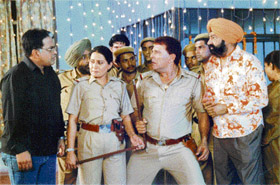 A scene from Thana Shagna Da
Punjabi humour has variegated hues—irreverent, self-mocking, robust and biting. It revels in taking pot-shots at the rich and the powerful even as it exposes various social evils at the grassroots level. If Jugnu Hazir Hai and Kato Phullan Te (both MH1) target schools and police stations, there are any number of comedies in the video circuit that raise the roof in political satire. The annual VCD series Chhankata has made a mark in this genre. It features Jaswinder Bhalla and Balmukund Sharma as stars—the latest has Ruby Malkit, too. Jaswinder Bhalla, as Chacha Chatar Singh, has already been at the receiving end of the ire of Amarinder Singh's acolytes; now he targets the Badal father-son duo.
However, apart from political satire there are social satires, too. The latest is Thana Shagna Da. It's a take on the current trend of eloping couples getting solace in police stations. The plot is simple—two friends are in love with the same woman. While one wins her hand the other, heartbroken, leaves for Canada. Two decades or so later the NRI friend's son falls in love with his old flame's daughter triggering off a series of comic situations. Jaspal Bhatti and Vivek Shauq impress as rivals-in-love turned fathers-of-lovebirds. If Vinod Sharma's cameo as a jeweller raises chuckles, then Ruby's histrionics as a tough mother are entertaining. However it is the police inspector duo of Yograj Singh and Nina Sidhu that comes as a surprise package. Their antics as corrupt but golden-hearted thanedars regale us.
Going by the quality of content, Doordarshan is still miles ahead of other Punjabi channels. Yet it does precious little to market/publicise its shows. While surfing channels one came across one of the oldest and most interesting programs, Punjabi Darpan, on DD National. It's in a magazine format that features literature as well as performing, folk and fine arts. It does not appear to have a definite slot. Ages ago it used to be telecast on Sunday mornings. Then it disappeared only to resurface much later in the afternoons. And disappeared again! Now, fortuitously one spotted it one evening. One wonders when and where (or whether) it would be telecast next.
There was this rather engaging discussion on the evolution of Punjabi short story and folk literature—and the influence of history and mythology. A fine distinction was made between Puranic literature and the mythical one. While the former has historical basis, the latter is a product of imagination. Another interesting point raised was how certain compositions become so popular that they become part and parcel of our daily life but their authors somehow get pushed into oblivion. One of the names cited was of Sardharam Phillauri, the composer of the aarti sung in temples—Om Jai Jagdish. Then there were folk songs sung with traditional instruments providing an ethereal charm. We hope this program is given a decent slot.