Go in for a snazzy kitchen
It is no secret that a well-planned kitchen makes cooking a far more pleasant activity. So why despair looking at your drab kitchen? Call up specialists who will give it a new life and sparkle, writes Nutan Sehgal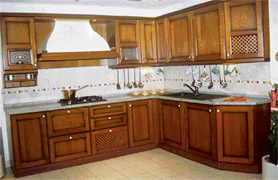 Housewife's dream... a fully loaded kitchen with plenty of storage space.
When Deepanjali Sahai got married and moved into the new apartment with her husband in Mumbai's Lokhandwala area, she felt something was lacking in the otherwise well-planned place. That something was a place she was going to spend a lot of her time in. She knew that the kitchen had to be very special with lots of storage space. She contacted professional kitchen designer Anjali Rao for her dream kitchen. The designer carefully studied the area, understood the needs of the household and then began working on the design.
"For me, designing a kitchen is not only about selling a concept to the housewife but it is about meeting all possible needs of a family—from food to storage. I take into consideration the shape of the kitchen and then give a layout plan that incorporates work surfaces and storage spaces. The idea is to have proper places for cabinets, sinks, ovens and other kitchen material, making life simple for the family."
It is little wonder then that an increasing number of upwardly mobile housewives are fast realising that in the modern world a comfortable house means a fully loaded kitchen with plenty of storage space. In case storage is a problem, suggest designers, it is best to hang as many things as aesthetically possible without making a clutter. One can put up racks on the wall for hanging stuff on. Remember, the back of the cabinet door can also function as a place to hang things. If you like a little greenery, then pots can be hung from the ceiling, though you have to make sure they do not act as obstructions and are not low enough for people to bang their heads.
Storage of spices needs special attention as these are required whenever you are cooking. You should not be hunting around for your favourite oregano and dried basil when making a pasta; neither should you be foraging for the dhania powder or heeng when doing a daal tadka. Clearly marked out racks should hold your spices, and they should be at eye level so that they are visible all the time. A better idea would be to put spices on revolving racks that are easily available in the market.
You must plan to have enough space in your pantry to store raw foodstuff and items that don't require refrigeration. You must also have extra space so that you can store stuff that you can use sometime later. In fact keeping things organised with plenty of storage space will help you to be more efficient, save time and above all keep your kitchen and pantry looking snazzy and smart.
It is no secret that a well-planned kitchen makes cooking a far more pleasant activity. So why sigh and despair looking at your drab kitchen? If you have the will, call up specialists who will give it a new life and sparkle. Or better still, use your own imagination and creativity to design your dream kitchen. — NF