TELEVISTA
Hogging the limelight
AMITA MALIK


Amita Malik
For the last few days I have watched appalled, on the small screen, the prolonged romance of Sanjay Dutt and his blushing bride (and girlfriend of many years) Manyata. The event not only made headline news but also occupied major space in news bulletins for days. This during a week when the politically sensitive issue of Raj Thackeray in Mumbai, the speculation on the forthcoming Budget and possible rise in petrol prices and the sad passing away of perhaps India's last real saint, Baba Amte, were of far more relevance to the ordinary, and in some cases, the special viewer.
Yet we were all deluged with minute details of the marriage, with the media trailing Sanjay and Manyata, or perhaps I should say dogging their footsteps, to the point of not only invasion of what should be a private affair but a romance which was already known to the viewer. The excuse which is always given for this kind of excess is that the viewer wants it. Certainly, to some extent, but many viewers, especially in the older age groups, might not be remotely interested. Many elderly people find TV their only means of getting not only entertainment but also information about what is going on in India and the rest of the world.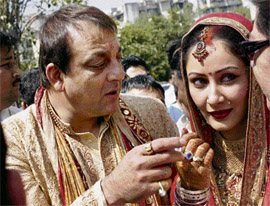 Sanjay and Manyata... an affair to remember
So perhaps we should look elsewhere to find a slot for what is not really news but over-hyped gossip. There are as many entertainment channels as news channels and that is where such gossip items can be comfortably fitted in.
After all, this was hardly a teenage romance. As one commentator, weary from the over-hype, put it: "Let us hope that Sanjay is third time lucky". This inevitably led to digging up of details regarding Sanjay's two previous marriages and analysing them in more gossipy detail.
Meanwhile, we had genuine news items. Such as the militant- turned-loyal soldier who laid down his life fighting militants. In the world of sports there were more arguments about the rights and wrongs of Sania Mirza refusing to play in India. Many felt that the country was more important than the individual, with Mahesh Bhupati in lonely defence. Then there was the Leander Paes-Prakash Amritraj controversy with Prakash in tears in his father's arms after beating a higher-ranked opponent and saving the Davis Cup for India.
Personally, I found this far more dramatic than the melodramatic huge close-up of Raj Thackeray and the flashbacks, really disturbing ones, of taxi drivers and humble street vendors being beaten up by his goons. There was an interesting side-effect to all this. On more than one day, when cricket and tennis were going on simultaneously, one had to make a hard choice. Apart from news channels coming up, many channels are announcing revolutionary changes, which do not turn out to be that revolutionary after all.
Believe it or not, the weather provided some real dramaŚnot only the cold wave in North India but the devastating snow, with avalanches, in Kashmir. The only people who welcomed it, we are told, were the militants who are taking advantage even of inclement weather to sneak across the border and make life dangerous and miserable for innocent people, while the netas, who started it all, and, of course the militants, are enjoying it.