PASSENGERS, both children and adults, screamed as the Space Shuttle-like vehicle lifted off with unimaginable speed into space and they had close encounters with celestial bodies. Then it plunged into the ocean and the "passengers" came face to face with mountainous whales and menacing sharks.
Finally, when the journey was over, most "passengers" felt a great sense of relief, for it was really scary. Of course, they knew that it was a make-believe journey and the simulator did not move an inch. This was one of the highlights of my visit to Hollywood that I described to my children at that time.
A similar, though less scary, experience awaited us when we boarded the flight simulator at Pushpa Gujral Science City on the Jalandhar-Kapurthala Road and had a virtual voyage in space and time. "If you feel scared, just close your eyes", I recalled the advice we were given at Hollywood.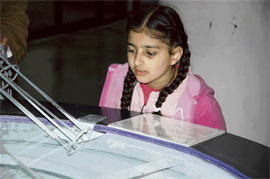 A budding scientist.
The Science City has a lot more to offer than this virtual expedition. Spread over 72 acres, it is the largest in the world, insists Dr R.S. Khandpur, its Director General. Yet, the number of visitors has been falling from 3.5 lakh when it was opened three years ago to 2.7 lakh last year. In comparison, a similar facility in Kolkata attracts 10 lakh visitors.
The location, which prompted a headline writer to call Pushpa Gujral Science City a "wonderland in hinterland", has something to do with the falling number of visitors. "We are trying to have a road to connect Science City directly with GT Road. A visitor from, say Amritsar or Chandigarh, should not have to go to Jalandhar town to reach Science City".
Dr Khandpur has more ideas up his sleeve to promote his baby, which is a Centre-state project with the cost being shared in the 70:30 ratio. "The Golden Temple, which is a major religious centre, and Sultanpur Lodhi, a heritage centre linked to Guru Nanak, are close by. We can market Science City as part of a Religion-Heritage-Science triangle like the Delhi-Jaipur-Agra tourist circuit".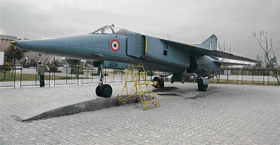 The MIG-23 is a star attraction at the
Science City.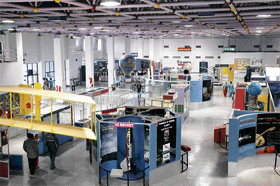 The main exhibition hall that will soon be devoted exclusively to space science.
— Photos by the writer

Like most projects, Science City, too, had a political origin. When I.K. Gujral who represented Jalandhar became Prime Minister, he thought of setting it up in memory of his mother, who was an educationist and social worker. The government had at that time earmarked 72 acres of land for an airport, a project found unfeasible later.
The land came handy for Science City, which Gujral visualised as a world-class facility that would "ignite the minds" of the people, to borrow an expression from former President A.P.J. Abdul Kalam, who was keen on its development.
The pity is that even four years after it was thrown open to the public, misconceptions remain among the common people. "Many of them ask, do you run courses in science?"
The purpose of the Science City is to provide edutainment — a combination of education and entertainment. The most visible sign of the facility is a gigantic globe that beckons the visitor.
Nearly 25 lakh tiles of differing colours had gone into the construction of the globe. A lot more things amaze the visitor like, for instance, a machine that tells one's age and weight in different planets. This writer would weigh just 5.5 kg in Pluto with an age of 0.2 years, against 31.3 kg and 224 years in Mercury.
The Science City is a happening place. Open round the year, work has been going on at a feverish pitch to build more facilities, add more exhibits and make the visit an unforgettable experience. If Dr Khandpur's efforts succeed, the Science train with 13 coaches showcasing German exhibits that traversed many cities and small towns, including Chandigarh and Jalandhar, recently would be brought to Science City and retained as a permanent attraction.
The German government has shown readiness to donate all the exhibits except those it had borrowed from some private companies. Another good news is that the Railways are setting up a gallery of its own in the city which will have an engine simulator and models of heritage trains like the one that runs on the Kalka-Shimla route.
The Ministry of Defence, which donated a MIG-23 aircraft last year, has shown readiness to hand over an anti-aircraft gun and a helicopter as permanent exhibits.
A dinosaur park with over 40 life-size specimens ranging in size from 1 foot to 140 feet, is nearly complete. A conference hall is also in the final stages of construction. Work is afoot on a 70-ft pyramid, which will have many exhibits and shows inside its cavernous structure. An energy park to impart renewable energy education is now fully functional: it produces its own energy. In fact, Science City is a city in itself with its own waste-disposal system. A herbal park has also been coming up with rare plants, trees and shrubs.
Many of the exhibits in the main hall will soon be shifted to newer galleries. For instance, there will soon be a whole gallery devoted to human body. A giant heart through which the visitor can pass is all set for unveiling. It also allows the visitor to sit for a while in one of its ventricles and understand how it functions.
Similarly, there will be a sports gallery where you can watch virtual sports. A theatre where the objects fly out of the screen and creepy characters reach out to grab the viewers is a hit with children. In a simulator, one can experience an earthquake, which, say, measures 8 on the Richter scale. Eight acres of land have also been earmarked for an amusement park.
The giant 100-ft diameter dome theatre can accommodate 328 persons. A mind-blowing film about wild life in the Serengeti National Park in Tanzania was on show. The Japanese projector and sound system alone cost Rs 10 crore. It is an out-of-the-world experience to watch a movie in this theatre. A kids' park, laser shows, rocket climber, planetarium, fun science, boating facilities, over a hundred do-it-yourself-kind of scientific instruments make the visit a wholesome experience.
Over the years, Science City has acquired the expertise to fabricate scientific exhibits. In fact, 40 per cent of them are in-house creations while 20 per cent are imported. "Unfortunately, there are no manufacturers of scientific exhibits in the country" rued Dr Khandpur.
Why is it that Science City does not attract a larger number of people? The entry fee of Rs 100 for students and 150 for adults may not be a big sum for students who pay a tuition fee of over Rs 1000 per month but for students who study in government schools, it is exorbitant.
The Education Department has announced a scheme whereby students of government schools would be subsidised to facilitate their visit to Science City.
The day we were there, a group of students had come with a newspaper clipping which, erroneously, said admission was free for government school students. The authorities finally allowed them to get inside Science City on a concessional rate of Rs 30 per child but they were not allowed to visit any of the stalls. It did not occur to the management that heavens would not have fallen if those poor students were allowed to have a full visit. Maybe, they did not want to set a precedent. Whatever be the case, for those who can afford to visit Science City it will be worth it, for it will rid them of many misconceptions about nature, astronomy, human anatomy and give an idea of how an aeroplane works or how a satellite is used in communication, how a robot moves and how water can come out of an unconnected tap suspended in the air. It is all science and no maya at Pushpa Gujral Science City.