Fur-fetched
Sharp cuts, soft touch & interesting palette, it's time for a fluffy revamp of your wardrobe
Purva Grover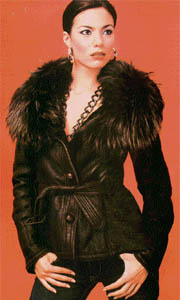 A fave with designers, fur has for long perked up the sizzle quotient on the ramp.Interesting colours, dramatic cuts, varied treatments; there is no limit to the versatility of fur. And this winter, it weren't just the ramp scorchers who discovered its beauty, but city fashionistas too. Here's a sneak peak at the furry delights that have been (and still are, for winter refuses to walk away) on city shelves.
Combined with a variety of fabrics, this season's fur fashion is casual and wearable. At Ten West-10, there are linear modern coats and jackets trimmed with fur, starting from Rs 1,000 onwards. Long and short jackets in denim complete with synthetic fur, look great when worn over a short dress. A combination of short-hair and long-hair synthetic fur, denim and lace makes up for the layered skirts at the store.
If you want to keep it minimalist, yet make a fur statement, then pick up an animal print belt adorned with flowers in fur and sequins. These belts are priced at Rs 495. Or else, go in for cuffs at Rs 295 and a pair of gloves for Rs 150. Or pick up a white faux fur cap with sequins on the outline for Rs 1,025 from Micky Chabra-10. Or caps in imitation leather with fur trimming for Rs 995. Sport them with a wool-knit dress and make a statement.
Want some more fur-filled excitement? How about leather boots with fur detailing? At Micky's store, there are ankle length boots with fur lining for Rs 2,225. Another pair with faux fur trims and uppers, these boots look dressy with both skirts and denims. For a sensational look, pick up stoles in hues of purple, pinks, red and blue. Priced at Rs 1,225 onwards, these pieces, a blend of wool, net, satin, lace and dyed fur promise glamour and attitude. A jacket in hosiery material with quilting on the inside, fur on the borders, and sequins on the zipper, is apt for making a dramatic statement.
Short-cropped jackets can be picked from any city fashion hut. Fur highlights on the collars, cuffs, sleeves, pockets or hood is the signature style of today. At Waga-10, you can choose from fur shrugs in colours like cream, brown and green, with a hint of shimmer. Accented with fancy buckles, these are priced at Rs 1,199. Romantic ruffles and frills on a velvet dress or a plain sweater lend the fur jackets a touch of subtle opulence.
For those in absolute love with fur, head to Da Milano-17. Here you'll find a touch of fur in almost every product on display. Crafted out of Italian pony fur, there are clutches in shades of brown, black and grey, priced at Rs 6,000. An attractive clutch in black and brown fur, interspersed with appliqué work in gold and silver, is priced at Rs 9,000. Chic handbags complete with fur trimmings and leather tussles are priced between Rs 9,000 and Rs 10,000. A must pick is a square shaped bag with a lock adorned with Swarovski; this one comes for Rs 9,995. Or you can go in for animal print leather bags , embossed with dyed fur or plain dyed colours like orange and purple. Luggage bags in fur come for Rs 13,000 onwards. Black and brown fur bag packs are a rage with the youth. Talk office accessories and there are leather file folders with fur patches and trimmings for Rs 2,995. Notepads fall in the range of Rs 795 and Rs 2,195. For men, there are wallets for Rs 2,195. The store also has caps in sheep fur for both men and women.
Well, all one can say is cheers to this fresh fashion element. So fur lovers, hurry and buy a fur delight and deepen your love affair with it. For winters are still here (though it's getting sunny and bright now) and it's better to perk up your furry style, before bidding it farewell.


Caring for your furry delights
n Get fur cleaned annually by a fur specialist and not a dry cleaner.
n Never hang fur in a plastic bag or rubber-lined bag as it prevents air circulation.
n If your fur gets wet, shake it out and hang it to dry.
n Never comb or brush the fur.
n Never pin jewellery on your fur.
n Avoid spraying perfume onto fur.
n Get small tears repaired immediately to prevent expensive repairs later.