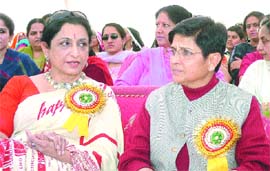 Police needs to win back people's confidence: Bedi
Amritsar, February 19
Exhorting the cops to do their duties honestly, first woman IPS officer of the country, Dr Kiran Bedi today said the police was reeling under severe image crisis. "Instead of becoming savior, it has turned into a notorious force, which has lost confidence and trust of the common man," said Bedi.
The first woman IPS officer of the country Dr Kiran Bedi was in Amritsar on Tuesday. — A
Tribune photograph
GPRS Week
Ruralites get tech tips on internet use
Amritsar, February 19
In order to create awareness among the rural youth about the internet facilities being provided by Bharatiya Sanchar Nigam Limited (BSNL), a GPRS week is being observed throughout the state from February 18 to 24.


Nihangs put up a dazzling gatka show
near the Golden Temple on Tuesday.
— Photo by Vishal Kumar
Campus Pulse
Dr Thukral elected fellow of Linnaean Society
Amritsar, February 19
Dr A K Thukral from the department of botanical and environmental sciences of GNDU has been elected as fellow of the Linnaean Society of London.
'Awareness on genetic
disorders need of hour'
Amritsar, February 19
The geneticists who participated in the three-day fifth international symposium on genetics, health and disease on "OMICS in 21st century" have unanimously recommended that the genetic diagnostic in general is very poor, especially in the developing countries. They were of the view that there was an urgent need to expedite the efforts to empower medical education to promote awareness regarding genetic diseases.
Antarctica warming raises concern
Amritsar, February 19
Expressing concern over the melting of snow in the Antarctica region due to global warming, Dr Surjeet Singh Dhillon, former dean and head of the zoology department, Punjabi University, said if the process continued, then most of the world's land would be submerged in the sea.