Democracy strikes back in Pak
Restored judges to decide on Mush's future: Sharif
Afzal Khan & Agencies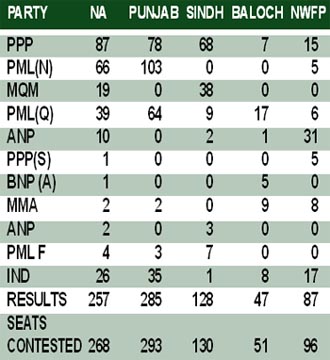 Islamabad, February 19
Even as pro-Musharraf party PML-Q was today routed in Pakistan's parliamentary polls which threw up a hung assembly, Pakistan People's Party (PPP) emerged the single largest party with 87 of 269 National Assembly seats for which elections were held while Pakistan Muslim League-N, headed by Sharif, two-time prime minister who was toppled in a bloodless coup by President Pervez Musharraf in 1999, got 66, providing a clear majority if they come together.
Musharraf, whose grip on power may loosen, rejected calls for him to quit after the defeat of his allies. PML-Q supporting Musharraf got 39 seats while other allies like MQM bagged 19.
Indications of post-poll alliance emerged with 58-year-old Sharif, whose party did exceedingly well in the face of an expected sympathy wave for Bhutto's party, saying would be meeting Bhutto's husband and PPP co-chairman Asif Ali Zardari on Thursday. Zardari also expressed willingness to work out an alliance with Sharif's party.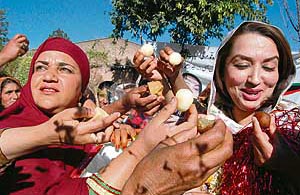 Supporters of slain opposition leader Benazir Bhutto offer sweets to each other to celebrate their victory in the general elections in Peshawar on Tuesday. — Reuters
Sharif spoke only on issues like the need for all parties to come together to finalise a strategy on removing Musharraf from power but analysts feel that for this to happen the two rivals should come together in government formation.
The former Prime Minister, who was barred from contesting the polls, did not say anything about government formation but was insistent that the sacked judges should be reinstated.
The two-time premier said the PML-N did not accept the emergency imposed by the President last year or the sacking of the judges who had not endorsed the measure.
Sharif has repeatedly said the PML-N will reinstate the deposed judges. All candidates of the party were administered a pledge before the polls that committed them to working for the reinstatement of the judges.
Asked if Musharraf would be impeached, he expressed the hope that the situation may not arise because the reinstated judges could take a decision whether the former military ruler's re-election as President was legal. In significant remarks, PPP Senator Mohammad Anwar Beg said his party was open to having an alliance with PML-N.
Meanwhile, the PML-Q accepted a humiliating defeat while other mainstream parties broadly recognised fairness of the results albeit with some reservations.
"We bow to the verdict of the people in the elections which were held in fair, free and transparent manner, " PML-Q chief Chaudhry Shujaat Hussain said while commenting on the outcome of the polls. Shujaat lost election on both seats he contested. Party sources said he was contemplating to step down and make way for cousin Chaudhry Pervez Elahi who has won one of the three National Assembly seats.
Elahi also admitted defeat and regretted that the electorate did not take into account the tremendous development effort undertaken by PML-Q governments in the country. He said the party leadership would soon decide whether he should lead the opposition in the National Assembly or somebody else is chosen for that slot.
PPP co-chairperson Asif Zardari said his party is thankful for the mandate given by the people but complained that it lost several seats because of "targeted rigging".
"It is an occasion for somber mood because our victory margin would have been much better if there had been no targeted rigging against our candidates, " he said. Zardari presided over a meeting of the PPP central executive committee here to discuss the outcome of the elections.
Maulana Fazlur Rehman whose Jamiat Ulema Islam (JUI) received worst ever drubbing in the polls insinuated that the election results were subordinated to the arrangements made under the National Reconciliation Ordinance (NRO), an apparent reference to the law under which corruption charges against slain PPP chairperson Benazir Bhutto and her spouse were pardoned.
In a statement issued from the JUI-F office here, he said the defeat or victory is part of electoral politics. "But the results this time were such that the winners were more astonished than the losers," he said adding that the apprehensions, which the JUI had expressed, have come to the fore loud and clear.

n Bhutto's PPP, the largest party in the assembly without getting a majority, will be in the market for coalition partners.
n An alliance between the PPP and the party of Nawaz Sharif, the prime minister Musharraf toppled in a coup in 1999, would probably lead to Musharraf's swift exit.
n The president could be impeached, or made to seek a pardon from Parliament for invoking emergency rule last November, or the government could try to reinstate the judges Musharraf fired before they could annul his re-election last October.
n The possibility of Musharraf resigning if this scenario took shape cannot be discounted.
n But Bhutto's widower Asif Ali Zardari, who took over the helm after her assassination in December, might decide the PPP would be better off cohabiting with a clutch of smaller parties, possibly including the pro-Musharraf PML, rather than risk confrontation when it has power in its grasp.
n Shunning Sharif is not without risk for Zardari. He still has to consolidate his own position as the head of the PPP, and striking any compromises that allow Musharraf to survive will be distasteful for many in the party and people who voted against the pro-Musharraf parties.
n If the PPP wins enough seats it could potentially form a coalition without either Sharif's party or the PML. But that would leave it under-represented in Punjab, Pakistan's most populous and richest province and home to the establishment.
n Zardari was jailed during Sharif's premiership in the 1990s, and it was Sharif who hounded Bhutto into exile in 1999, so trust will be an issue.
n Zardari and Sharif met last week. But their common fear then was that rigging by the government would rob them of victory, as it raised the prospects of confronting the army if their party activists went on the streets to protest. — Reuters

Record 11 women win
Afzal Khan writes from Islamabad
A record 11 women candidates have won the contest for general seats in Monday's elections to the National Assembly. Sixty seats reserved for women will be allocated to respective parties proportionate to the strength of the votes polled by them.
Five women candidates belonging to the Pakistan People's Party (PPP) have won. Other winners include PML-N and PML-Q two each, while one each from Muttahida Qaumi Movement (MQM) and an Independent candidate has been elected.
PPP women winners include Firdaus Aashique Dayal, Dr Fahmida Mirza, Dr Azra Pechoho, Shamshad Sattar Bachani and Hina Rabbani Khar. Other winners are PML-Q's Ghulam Bibi Bharwana and Sumera Malik; PML-N's Tahmina Daultana and Saira Afzal Tarar, MQM's Khushbakht Shujaat and Independent Saima Akhtar Bharwana.

A step towards democracy: US
Washington, February 19
The United States said on Tuesday that Pakistan's election was a step toward the full restoration of democracy and urged all parties to accept the results and work together.
"Certainly we would want the election results to be respected by all parties. We certainly hope that as the process moves forward of forming a government, that everyone continues to remain calm and act in a peaceful way," US State Department spokesman Tom Casey said. Asked whether the election result lessened Musharraf's clout in Pakistan, White House spokeswoman Dana Perino said, "We'll have to see."
Mindful the United States will be dealing with an altered Pakistani leadership, the White House voiced hope for continued cooperation on counter terrorism. — Reuters