THIS ABOVE ALL
Leave Sania to her game
KHUSHWANT SINGH


Khushwant Singh
Hyderabad has an enviable record of producing sportspersons of international calibre. I can recall some names—cricketers like C.K. Naidu from my school days and Azharuddin of later years. Tennis players like Ghaus Mohammed and Khanum Haji of my years in college. Azhar still draws media attention but for reasons other than cricket. Ghaus disappeared from the scene. I heard rumours about his hitting the bottle soon after he ceased to be India's tennis ace. I don't know if he is still around.
Khanum Haji I remember vividly as an athletic young lass bouncing about the court, and to the delight of Indians, thrashing memsahibs on her way to winning tournaments. She went through a succession of husbands, all non-Muslims. She must be around somewhere. Most of all the Hyderabadi sports persons the one who has become the heartthrob of India, old and young, is the lovely Sania Mirza, ranked Asia's number one and the world's number 31. She has done her country and
community proud.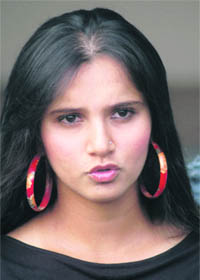 Tennis heartthrob of India
Sania Mirza
It is unfortunate that she should be at the receiving end of fundamentalists and that she has decided not to play in India to avoid further controversy. Such narrow-minded people are a disgrace to their community and nation. Instead of carping about trivialities like where she was photographed or the short tennis skirt she has to wear for mobility (she can't play in burqa), you should be praying that this beautiful daughter of India may soon become world's number one.
Best cartoonists
Among the many things we learnt from our association with the English was the art of making cartoons with political and social messages. Some of the best cartoonists of the world are Shankar, R.K. Laxman, Mario Miranda, Rajinder Puri, Sudhir Dar and Telang. The names of Indian pioneers have now become a faded memory. Mushirul Hasan, Vice-Chancellor of Jamia Millia, has unearthed a couple in his Avadh Punch: Wit & Humour in Colonial Northern India (Niyogi). The inspiration came from London's weekly magazine Punch (1841-2002), which was widely read by our British rulers and the English educated Indian elite.
It was picked up by Sajjad Hasan of Lucknow who started publishing Avadh Punch in Urdu in 1877. It lasted till 1936. It was taken from Punch & Judy shows common in English sea-side resorts to this day. Englishmen are depicted as John Bulls with their bulldogs, or as Punchs with hooked noses; Russians as bears; India is represented as a mother figure.
The themes depicted are almost entirely political. There are a few digs at our foreign rulers, keeping their touchiness in mind. A contemporary of Sajjad Hasan whose name is hardly known to the present generation was a satirical writer Wilayat Ali Bambooque. The book makes pleasant, informative reading.
Believe it or not
Purnam Rama Sastri had been studying meditation for many years, Sub-Inspector of Police Mohammed Osman told an inquest in Guntur, Andhra Pradesh. Recently Sastri claimed to have mastered the ancient yogic practice of jala stambanam. That is the art of defying the body's normal physical limits, and he hoped to become head of a new spiritual movement by performing miracles in public. On Wednesday night he invited a crowd to watch him jump from the top of a two-storey building, and despite sustaining mild concussion and a sprained ankle, he claimed to have defied gravity. Intoxicated with his success, he then invited the crowd to watch him descend into a well at midnight, assuring his family that jala stambanam would enable him to breathe under water, and that he would be unharmed when they winched him up the next morning. After lowering Purnam Rama Sastri into the well, they all went home, marvelling at his miraculous
powers.
But when they returned to the well the next morning, they found that he had drowned, and his body had to be fished out by police divers. In the interest of public health, we recommend that nobody should drink unboiled water from the well for seven days.
(Courtesy: Private Eye, Feb 21, 2008)
Youth & old age
I was going over the anthology of Urdu poetry when I came across a verse of Babar Ali Anees (1804-1874) which I had marked earlier. I am not sure if I had translated and published it in these columns. So I had to go at it because I liked the sentiment behind it:
Duniya bhee ajab serai faanee;
Deykhee har cheez yahaan kee aanee jaane;,
Deykha jo aa kay na jaaye voh burhaapa;
Deykhee jo jaa kay na aaye voh jawaanee.
(The world is a strange kind of inn for a short stay;
Everything there comes and then goes its way;
Only youth, when gone, never comes back;
Old age comes and stays to the last day).