Blot on Mumbai
The migrants from UP and Bihar form the bulwark of faceless workers who sustain the services in the metro. Incidents of violence targeting North Indians by supporters of Raj Thackeray are a blemish on the cosmopolitan character of the metro. Mumbaikars have taken the trouble in their stride, reports Shiv Kumar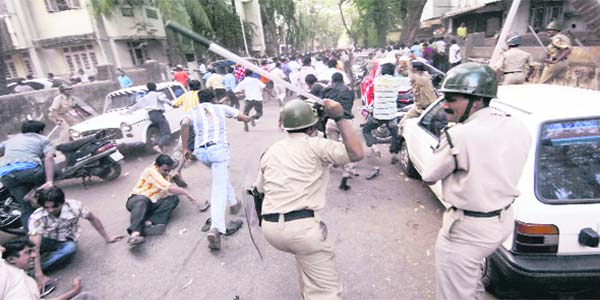 WHEN Alok Mishra arrived in Mumbai five years ago seeking a job as a security guard in one of the many housing societies that dot the suburbs, violence was something he was willing to live with. "Regardless of Raj Thackeray or Bal Thackeray, Mumbai is far more peaceful. Okay we get harassed by cops occasionally or roughed up by local toughs, but life is far more tougher back home," says Mishra all of 25 years.
Home for Mishra and scores of others goes by names like Satna in Madhya Pradesh, Bareilly in Uttar Pradesh and Patna in Bihar. A Brahmin from Uttar Pradesh, reservation in government jobs for the backward castes have ensured that men like Mishra don't stand a chance despite holding a B.Sc degree. Caste and a poor knowledge of English has ensured that Mishra ekes out a meagre Rs 2,000 every month for his 12-hour shift, seven days a week.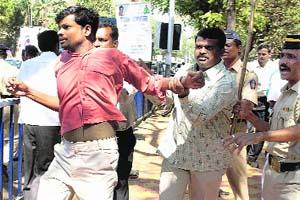 His employer has hired a shanty in one of the slums adjoining the building where Mishra works. Here the security guard shares sleeping space with scores of kinsmen all brought to Mumbai by word of mouth. Extra income comes from washing cars in the society that employs them. The job package includes lunch comprising rice and dal and two-month-long unpaid vacation when Mumbai's housing societies experience an exodus of men like Mishra. "April and May are the only times in a year when we can meet with our kinsmen and connect with relatives since all of them are scattered all over the country," says Mishra.
Men like Mishra form the backbone of Mumbai's support services where employers routinely strike a bargain and lower the rates, regardless of inflation. "Though there is a law which says that only people domiciled in Maharashtra may be employed as security guards, no local will work with us," says Vijay Jadhav, Mishra's supervisor and a Maharashtrian himself. Should the government strictly enforce the law on security guards, men like Mishra will be re-classified as water pump operators or gate-keepers to beat the law, says Jadhav.
The only career prospects people like Mishra have is to move on tobigger companies after putting in several years of service in the city. Others pick up skills like driving for better prospects. A few choose self employment and end up in the city'sstreets lugging baskets containing groceries or fish. But caste hierarchy dictates the jobs they take. "Brahmins will not sell fish or vegetables," says Mishra.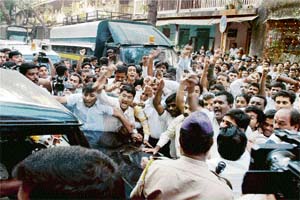 Angry supporters of the MNS protest the arrest of their leaders. It was the people who suffered as the police acted belatedly. — Photo by Reuters
Still Mumbai has something for everyone. Like it was the proverbial city of gold for migrants down the ages who flocked here to earn a living. The success stories of the ones who came before continue to draw newer migrants regardless of the fact that the city is bursting at its seams.
High up on the list of North Indian migrants is the tale of Kripashankar Singh who began life as a humble vegetable vendor but rose to become Maharashtra's Minister of State for Home. Though he is out of office now, Singh is among those who are vocally opposing the antics of politicians like Maharashtra Navnirman Sena leader Raj Thackeray. "People do such things for political mileage...this is only a drama to attract attention," Singh said shortly after Thackeray's boys ran riot across Mumbai.
In the forefront of the campaign to get Raj Thackeray arrested, Singh was confabulating with senior leaders of the Congress and the Nationalist Congress Party, in fluent Marathi. Journalists covering the political beat say, Singh speaks far better Marathi than the likes of Raj and Uddhav Thackeray. However Singh's opponents say politicians like himself are part of the problem. Like the other prominent North Indian face in the Mumbai Congress party, Sanjay Nirupam, Singh is accused of building a vote bank of North Indian migrants. "People like Kripashankar Singh have forced Marathi vegetable vendors and auto-rickshaw drivers out of the suburbs," says Arvind Mahale, a leader of the MNS in Borivli.
Still no political party can ignore the fact that migrants account for more than 40 per cent of the population in Mumbai and Thane. Of the migrants, the North Indian voters alone account for some 25 per cent of the electorate, according to rough estimates available from the state Election Commission. And MLAs from Mumbai and Thane and the neighboring suburbs of Kalyan, Ambarnath and Navi Mumbai will account for nearly 70 of the 288 assembly seats in the Maharashtra assembly following the delimitation exercise undertaken by the Election Commission.
"Migrants will determine the fate of candidates in at least 45 seats of Maharashtra," Nationalist Congress Party supremo Sharad Pawar said recently. Others went even further. "One day, an outsider may even endup as the Chief Minister of Maharashtra,"
Maharashtra Pradesh Congress Committee Chief Prabha Rau had remarked some time ago. The comment was however used extensively by Raj Thackeray in his recent campaign against migrants.
Meanwhile the number of migrants, specifically those from North India, is rising across the state. As the campaign by the MNS showed, there is a significant number of migrants living in places as far-flung as Aurangabad, Beed, Nashik and Jalgaon. "Industrial estates in many of these places employ North Indian migrants since they work hard and work for less," says Amritlal Maheshwari, who owns a fabrication unit in the Maharashtra Industrial Development Corporation (MIDC) industrial estate at Aurangabad.
Even Bal Thackeray, the old warhorse who rode to infamy with a campaign against South Indian migrants in the 1960s, is singing a different song.
"Maharashtra has always put the country's interests first and abided by the Rashtra dharma," the senior Thackeray wrote one day after his nephew's arrest and release on bail.
Thackeray said the legendary ruler of Maharashtra, Shivaji, had taken the help of the Pathans to fight the Mughal invaders. "Those who will come with us are our friends, our brethren. We will not think about their caste, region and religion," the Sena chief said.
In fact, say political observers, Raj Thackeray decided to embark on his campaign against North Indian migrants after Uddhav Thackeray, his estranged cousin and son of the Shiv Sena supremo, organised an Uttar Pradesh Diwas in Mumbai earlier in February. An angry Raj demanded that only Maharashtra Day will be celebrated in Maharashtra. "Even in America, the Maharashtrians celebrate Maharashtra Day on July 4, that country's Independence Day," Raj Thackeray roared.
To increase media coverage, Raj took on superstar Amitabh Bachchan for setting up a school in his native Uttar Pradesh. Then came the attack on North Indian taxi drivers and vegetable vendors and provocative statements from Raj Thackeray.
Even Uddhav Thackeray had to dilute his attempts to turn the Shiv Sena into an all-inclusive party. At a speech at the Mumbai airport, Thackeray threatened the management that "migrants brought into carry out redevelopment work would be parcelled back home". He subsequently clarified that the management should employ only people who have been living in the city for long regardless of their origin.
According to observers, the sudden heating up of Maharashtra's political environment follows fears that early elections may be called at the state and central levels. Though Lok Sabha and state assembly polls are due in 2009, it is felt that polls may be brought forward. And the ruling coalition in Maharashtra facing rough weather from farmers committing suicide and a severe power crisis across the state appears shaky. Going by the response Uddhav Thackeray is drawing at public meetings across the state, the Congress and the NCP are worried not to speak of Raj Thackeray himself. The only role Raj can see for himself is that of a spoiler who cuts into the traditional Marathi vote bank of Uddhav Thackeray. With some support from the Congress-NCP coalition which arrested him and turned Raj into a hero, he might as well be right.
— Photos by Agencies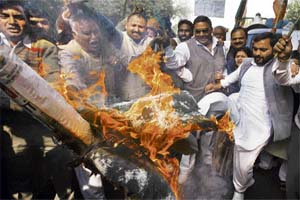 HOURS after MNS Chief Raj Thackeray was arrested and released on bail with a gag order prohibiting him from making speeches in public, things cooled down. Neither Thackeray nor his colleagues seem to be interested in the presence of North Indian migrants in Mumbai any longer. In fact, this reporter saw scores of North Indian migrants working in business establishments owned by MNS activists in suburban Mumbai.
A well-known luxury bus company with links to Raj Thackeray continued with its services while vehicles belonging to rivals were damaged following his arrest. All the bus drivers employed by the company are North Indians and they continue to work unhindered. Political observers say, Raj Thackeray was merely trying to prove his point and once it has been accomplished he has decided to lie low, at least for now. "If only they had arrested Raj Thackeray when the violence first broke out earlier this month, things would not have come to this pass," says Gurudas Kamat, president of the Mumbai Regional Congress Committee who has been crying hoarse that "goondas like Raj Thackeray should be shown their place without much ado". However a number of unfortunate victims had to pay a price for the uplifting of Raj Thackeray's political image. An employee of Hindustan Aeronautics Ltd died when the bus he was travelling in was stoned by MNS activists. Scores of migrants in Nashik began an exodus after they were threatened by MNS activists. Most of them have begun to come back and have begun to rebuild their lives right next door to their neighbours from the MNS.