Tagore Theatre's renovation plan of a larger seating capacity & a seemingly triangular stage has triggered off a controversy
Save Tagore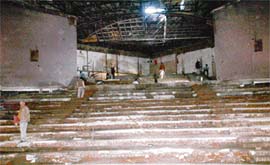 The Tagore Theatre controversy just refuses to die down. Aditya Prakash, who created it along with P. Jeanneret, way back in 1958, may have given up his fight as a lost cause, but not others. So our arty folks, simmering with resentment at the drastic change of the heritage auditorium, got leverage when filmmaker M.S. Sathyu took an interest in the matter, calling the new-look auditorium a 'monster'. And thus was born a group of likeminded people, whose mission now is 'Save Tagore'.
The CITCO-run fast-food joint, where more than food the tree-trunk stools were the centre of attraction, now looks like a railway platform
Log Out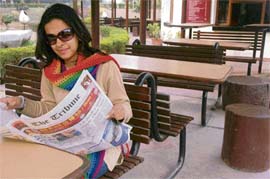 NATURE is not spicing up the pleasure of reposing on tree trunks for savouring all that's beautiful, and uncorrupted by the ways of the world, in the Leisure Valley-10.And taking you away from good earth is none else than the Chandigarh Industrial and Tourism Development Corporation (CITCO). Oh yes, you may find it hard to digest, but the organisation has just pulled nature out of its menu. It has, in fact, removed tree trunks that served not just as sofas, but also tables, at its Leisure Valley fast food joint Stop `n' Stare.
D language of 2dy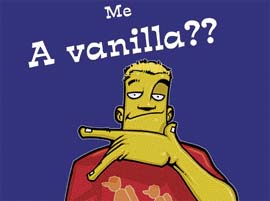 Short cuts, SMS language & contracted words.
That's how Gen Y communicates
FANCY buying and 'ice' for your wife? Ice in this cold? Well, do not jump to conclusions. For, what you hear is not what you get these days. But then don't express your ignorance either, lest you get labelled as a 'vanilla'. If you are thoroughly puzzled by this strange mumbo-jumbo, then we suggest you go through A-Z of Teen Talk. This is a dictionary on slang written by a 13-year-old America girl Lucy Van Amerongen. And, just in case you are still wondering, then ice is a substitute for diamond and vanilla means boring.
On the Rocks
Spice Telecom is teaming up with the Rotary and the Rotaract Club of Chandigarh, for the third consecutive year, to bring the SPICE 'Rotary Heartline' concert to the City Beautiful on February 27, 2008. Renowned international rock band Parikrama and Indi Rock-pop band Bandish will be performing in this concert that is a fundraiser in aid of economically weak children with heart ailments.
Chocolates are the new-age health-pills. Here's how to never have enough of them!
Temptations galore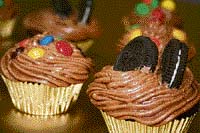 Dairy Milk's Kuch Meetha Ho Jaye commercial has since long pointed at the transition — chocolates as the new-age meetha rather than the fat ol' mithai. In fact, chocolates have been accepted as the water mouths of millions, not only of the kids but also the people of all age groups. But now, the scrumptious flavour of chocolate is not only the reason to be a chocoholic. There's good news for chocolate lovers. A recent study in Wheeling Jesuit University in West Virginia, hints that consumption of chocolates can boost brainpower. So here's how to soak yourself up in the sinful savoury:
Royal razmatazz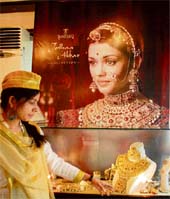 Desirably different, passionately perfect & so enchanting to the eye! Jodhaa's stunning jewellery transforms you to the Mughal Era
Sample this. She's sitting pretty amidst a plethora of attendant friends and cousins, draped in shimmering bridals. Despite her tear-strewn, gleaming eyes and her well-chiseled face missing the glow of a bride (she's not happy with the wedding arrangement, you see!), she exuberates an intrinsic sensuality – with an appealingly traditional nathni sparkling on her blush-tinted cheekbone, a charming kamarbandh dancing to her every move, exquisite maang-tika adorning her forehead, regal raani-haar and a choker embellishing her neck, intricately carved kangans and hathphuls jingling in her hands, rings and aarsi flashing on her delicate fingers and a nat-khat nathni caressing the corners of her lips.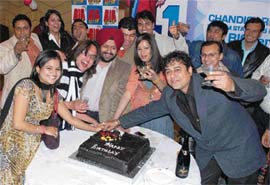 We're one!
TALKING non-stop, crying and laughing with you, loading you with freebies, and playing you the right music. Big FM completed a year of all this and more on Saturday. We joined the big family in their first anniversary celebrations at Mountview-10 and asked them how it feels to be 'one'. Said cluster head, Punjab Big, FM Mohit Sharma, "The year was packed with fun.We got into the pulse of the city with rock shows, Valentine's bash, Sabse Big Diwali and more. We did our bit for society through activities like the City Banao Pretty campaign and put water stalls in summers ."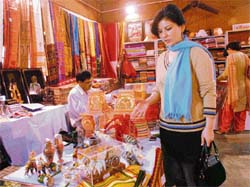 Whiff of Andhra
Handicrafts have always occupied a special corner in our homes. So the display of handicrafts and handlooms by the Andhra Pradesh Handicrafts Corporation in its exhibition-cum-sale called Lepakshi Heritage Collection' at Lajpatrai Bhawan-15 is a must visit. On display are craft pieces including acrylic paintings, oil paintings, sketches, nirmal paintings (with washable paint) metal embossing and Dhokra casting (brass moulded and cast into tribal figures). The range of the paintings varies from Rs 100 to a hefty Rs 17,000.
Nice & Easy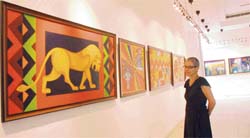 Yet another exhibition that takes your mind on a multi-hued journey
What makes a painting click? Theme, colour co-ordination or the way it is being executed? Well, sometimes, simplicity too can be a big drawing factor and this is what we see in Daphy Brar and Sonal Singh's Mind Games at Alliance Francaise-36. So once you enter the exhibition hall, you can let go of your artistic instincts and just get submerged into the riot of colours.
Matka chowk


Assembled in Chandigarh
I recently bought two small pieces of furniture from the Godrej store. These are the new age furniture – of little substance and sold in bits and pieces – to be assembled with instructions that seem to emanate from Beijing.