Hello cello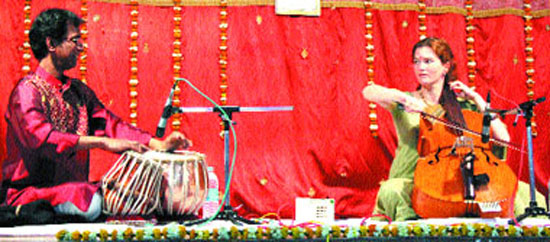 Stellar show: The first-ever performance of Cello by Saskia Rao De Haas at Spring Dale Senior School proved to be an enthralling affair. The western instrument has been specially modified for the Indian classical music. Saskia was accompanied by Dhurjoy Banerjee on tabla. Saskia also presented Raag Nadh Bhairavi. She exhorted the students to learn some musical instrument, as it gives true happiness.

Rs 14 lakh for spruce up of school
Amritsar, February 26
"We have applied for registering the MMKMT with the central government as it was not able to bring in huge donations for the social cause due to the disturbed area tag," said Mata Mohinder Kaur Memorial Trust (MMKMT) chairman Amrik Singh Gill at the annual prize distribution function of Government Senior Secondary School, Talwandi Dasundha Singh, here on Tuesday.
Students of Government Senior Secondary School hold placards displaying slogans against the menace of drugs and liquor during their annual function at Talwandi Dasundha Singh, near Amritsar, on Tuesday. — Photo by Vishal Kumar
Take verification of servants seriously, police advises residents
Amritsar, February 26
In spite of a number of criminal incidents, including a double murder which rocked the city during last month, by migrants being reported in the holy city, local residents still seemed to be oblivious to the need of getting the antecedents of their migrant servants checked.
Greece, Russian dancers mesmerise audience
Amritsar, February 26
Students, staff and alumnae of the Khalsa College of Education and its other institution had a scintillating experience by watching a rhythmic dance performance by folk artistes from Greece and Russia. The artistes were in the city to participate in the Amritsar International Folk Festival organised by the Punjab Cultural Promotion Council (PCPC).


Artistes from Russia present a dance item during Amritsar International Folk Festival. — Photo by Vishal Kumar

Jumping Jack

'Savi' story leaves a lasting impact
Amritsar, February 26
The staging of play "Savi", coupled with excellent performances by artistes, left an indelible impressions on the minds of the audience at Punjab Naatshala to witness live performance of one of the scintillating plays depicting the plight of a young woman to uphold the "wata-sata" (exchange of females in the matrimony) in the Gujjar community in far-flung areas of Himachal Pradesh, here on Sunday evening.

Artistes put up a rivetting performance at Punjab Naatshala.
Immigrants' problems discussed
Amritsar, February 26 Botanical scientist Prof Gopal Singh Puri has made commendable contributions to the Punjabi literature by highlighting the problems of Punjabi immigrants.
BSNL to commission 141 BTSs
Amritsar, February 26
Bharat Sanchar Nigam Limited (BSNL) will commission 40 BTSs of 2G and 101 of 3G technology at district headquarters and commercially important towns of the border district.
No need to hide infertility problems: Experts
Amritsar, February 26
Excessive bleeding during the menstrual cycle is a growing problem among women above 35 years and those nearing menopause. This was disclosed by Dr Sita Sharma at a gynaecological and dietary consultation camp held at Fortis hospital here.
Early morning surprise for slum kids: Breakfast
Amritsar, February 26
Tiny tots of the Citizens Vidya Mandir school situated in Maqboolpura, popularly known as the locality of widows, would have never dreamt of having their breakfast, but for the benevolence of some philanthropists who came forward to provide meals to these hapless children in the school itself.
Intl Olympiad: DPS bags 3 gold medals
Amritsar, February 26
Students of Delhi Public School won three gold medals in International Olympiad conducted by Macmillan Publishing for Education Assessment, Australia programme under the University of New South Wale ,Australia (EAA - UNSW).
Jackson labs raided
Amritsar, February 26
The Income Tax department raided the premises of Jackson Laboratories Limited, situated in the walled city on Amritsar-Attari bypass, here today. The survey conducted by the IT sleuths continued till the filing of the report.
Peddlers' gang busted, 600 kg poppy husk seized
Amritsar, February 26
The narcotics cell of the Amritsar (rural) police on Tuesday nabbed four persons for smuggling poppy husk and seized two trucks laden with more than six quintals of narcotics.