M A I N N E W S
Lalu ke haseen poll sapne
Cuts fares, freight on petrol, diesel
T.R. Ramachandran
Tribune News Service
Bollywood movies 'Chak De', 'Goal' and 'Mungeri Lal ke Haseen Sapne' came to the aid of railway minister Lalu Prasad in describing the achievements of his ministry in the rail budget. The Indian Railways in its "historic" profit-making binge has been "kicking one 'Goal' after another (creating records) and every child in the country is today cheering 'Chak De' railway", Lalu said in his budget speech. "We have not only shown dreams but turned them into reality...... 'Mungeri Lal ke Haseen Sapne' (Mungeri Lal's sweet dreams) have been turned into reality and are being implemented," he said, amid laughter and applause from all sides.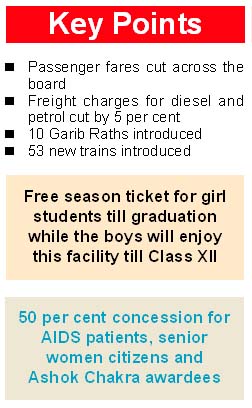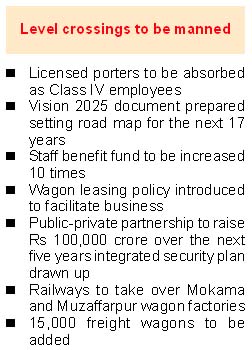 New Delhi, February 26
With an eye on the general elections, union railway minister Lalu Prasad Yadav expectedly reduced passenger and freight rates across the board in his budget proposals for 2008-09 and announced the biggest ever annual plan for the gigantic system with an investment of Rs 37,500 crore.
Sticking to his pledge of unveiling a "people friendly" budget in the Lok Sabha today amid loud protests from the NDA that all BJP-ruled states had been discriminated against, Yadav proposed cut in fares by 5 per cent in sleeper class, 3 per cent in AC III tier, 4 per cent in AC II, and 7 per cent in AC I.
The reduction in the fares of AC I and AC II, though, comes with a rider that it will be halved during the peak period in popular trains which would be notified subsequently by the Railways. This announcement is in line with the last year's decision that the maximum difference of second-class mail/express fares with the fares of AC-I and AC-II will be 10 times and six times, respectively.
The railway minister spoke of a further reduction of 2 per cent in the fares of the newly designed sleeper class coaches having 81 seats. Last year Lalu had announced a reduction of 4 per cent. Thus this year's proposal makes it 6 per cent. However, this benefit will accrue to the passengers only in the next two to seven years when all sleeper coaches would get converted into the newly designed ones.
In the government's multi-pronged effort to check inflationary trends, the minister added his bit by announcing that transportation of fuels would be 5 per cent less.
Giving special focus to armed forces personnel, senior women citizens and girl students, Yadav said the Ashok Chakra awardees, the highest gallantry award during peace time, will now get 50 per cent concession when they travel in AC-II aboard the Rajdhani and Shatabdi trains. Thus the Ashok Chakra awardees have been brought on par with the Paramvir Chakra, Mahavir Chakra and Vir Chakra awardees.
The monthly season ticket for girl students will be available up to graduation while the boys will enjoy this facility till the Class XII. At present, free monthly season tickets for second class travel between school and home are provided to girl students up to the Class XII and the boys till Class X.
The concession for senior citizens of the fair sex has been increased from 30 per cent to 50 per cent for all classes of travel. The concession for male senior citizens remains unchanged at 30 per cent.
Taking a step beyond the Red Ribbon express being run in collaboration with the National Aids Control Organisation, the Railways will provide 50 per cent concession in second-class passenger fares to AIDS patients to nominated centres for treatment.
The Railways are preparing a Vision-2025 document setting the road map for the next 17 years which will be customer centric and throw up market responsive strategic initiatives and action plans. An Information Technology Vision-2012 is also being put in place providing for radical changes in technology and processes through seamless integration of IT applications on a common platform with focus on improvement in operational efficiency, transparency in working and better services to the customers.
Lalu said the public-private partnership is being launched for attracting investment of Rs 100,000 crore over the next five years for developing world class stations, rolling stock manufacturing, multi modal logistics parks and running of container trains.
Yadav said in continuation of his ministry's social services, the Railways in collaboration with the Rajiv Gandhi Foundation propose running a Mother-Child express of seven coaches on a pilot basis for providing medical facilities to the mother and child. This train to be run by the Railways at a concession would have facilities like delivery operation room and child health centre.
Patting himself on the back for creating an organisation where every child will say "Chak de Railways" coupled with everybody appreciating that he has done tremendous work, Yadav said there would be 10 new Garib Raths and 53 other new trains in the next fiscal.
Further, the minister proposed extension in services of 16 pairs of trains and increase in frequency of 11 pairs of train services.
In the revised estimates, Yadav said the target for loading was fixed at 790 MT and expected to grow by 14 per cent. Gross Traffic Revenues were estimated at Rs 72,755 crore amounting to 16 per cent higher than the previous year. Ordinary working expenses registered a saving of Rs 966 crore and the operating ratio was likely to improve from the budgeted 79.6 per cent 76.3 per cent, the best in the last four decades.
The return on capital was at an all time high of 21 per cent and the cash surplus before dividend was expected to be a record Rs 25,000 crore. The estimated net revenue was Rs 18,416 crore and the surplus after payment of dividend would be around Rs 13,534 crore. The growth in passenger earnings was around 14 per cent.
Listing the initiatives in giving a push to freight business, Lalu spoke of having prepared a blue print for high density network for phased augmentation of capacity augmentation, including dedicated freight corridors, doubling, third and fourth lines, bypasses and automatic signaling works among other things over the next seven years costing Rs 75,000 crore.
The Railways will provide discounts for development of bulk and non-bulk goods terminals and set up an empowered strategic business unit to at the apex level to ensure single window system for emerging business opportunities and client support.
The minister has also issued directions for setting up minority cells in all zonal railway offices and in the Railway Board for promoting minorities welfare and ensuring their adequate representation in railway services.