MUSIC ZONE
K D Lang — Watershed (NS)
Saurabh & Gaurav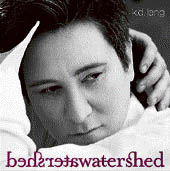 After a hiatus since her 2000 release Invincible Summer, K D Lang is back with a set of remarkably rich, reflective and complex original compositions that she also produced herself. Lang wrote most of this material with some of the same collaborators who back her in the studio, notably bassist David Piltch, guitarist Ben Mink and pianist-organist Teddy Borowiecki, who also wrote the string arrangements. Comin' Home opens with a sparse, slightly jaunty pluck of strings, and Lang simply croons right into them: "Oh, sweet sorrow/ Let's write the book tomorrow/ For I caught a glimpse/ Been obsessed with it ever since/ My eyes no longer weak amongst the clarity that you pronounce in me`85." Flame of the Uninspired covers much territory in a modest amount of time. The tune begins with the faint sound of a beating heart and reveals Lang's acute insight into her own. Her self-analytical, self-critical lyrics are among the most poetic in the album. Close Your Eyes is a delicate lullaby that offers solace and security in the roomy confines of Lang's sturdy yet restrained voice. Lang's voice is the dominant hue in a kaleidoscope of sounds in Watershed, illustrated to wonderful effect throughout the album.
Best track: Close Your Eyes
Worst track: Upstream
Rating: ***
Scarface — M.A.D.E. (Asylum)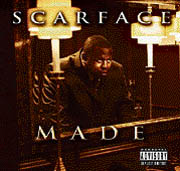 Starting in the late 1980s with the Geto Boys, Brad Jordan, better known as Scarface, helped establish a narrative tradition alongside the club tracks that used to define Southern hip-hop. Linking up with longtime producers Mike Dean, John Bido, and Tone Capone, M.A.D.E. incorporates a more traditional southern feel, similar to the earlier releases. The thick syrupy basslines and robust drum patterns give freedom to manifest that signature Scarface sound. He keeps up the steady stream of quality tracks with Who Do You Believe In — an introspective track. In Big Dog Status, he preaches the younger generation to stop worrying about the price tag of their ride and start thinking about what it takes to stay in the game for life. Boy Meets Girl is a symbolic narrative about the dangers of drugs. Lastly, The Suicide Note helps to further root the album in reality. Scarface scribes his last story in the album with a curious choice of imagery. Face has developed a unique form, enabling him to tackle such issues, and flex his muscles in an inspiring way.
Best track: Big Dog Status
Worst track: Dollar
Rating: ***
Putumayo Presents Tango Around The World — Various Artists (World Music)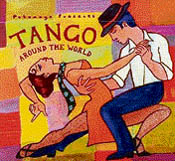 Tango music, which was one of the first great global dance crazes, was born in Argentina and is inextricably linked with the history and soul of that country. But, having spread across the planet nearly a hundred years ago, it has had ample opportunity to gestate elsewhere, and it is no surprise that a collection of modern tango music that spans the globe would yield such rich results. To be sure, Argentina is well represented by artists such as Hugo Diaz, Federico Aubele and Florencia Bonadeo, but the sampling of songs from other nations such as Serbia, Senegal, Norway and Portugal will be both revelatory as well as rewarding. Finland, one of the great European strongholds of tango, has its own distinct tango style and is represented here by the single Kangastus performed by M.A. Numminen and Sanna Pietiainen, while Brazil, a neighbouring country that resisted the pull of tango in favour of its own, home-grown samba, contributes a fine song as well, Tango Ishede, by Fortuna. The prominent numbers are Dimba by Ousmane Toure, Pena by Federico Aubele and Estrela Da Tarde by Liana. Tango fans will enjoy this set, as will newcomers who may welcome the way these crossovers and variations often dilute the innate severity of the genre. As with many of Putumayo's best collections, this is both a fine album as well as a signpost for deeper exploration of many fine artists who would otherwise be far from our radar.
Best track: Kangastus
Misfit: Gipsy Tango
Rating: **
Album of the month
The Mars Volta — The Bedlam In Goliath (Universal)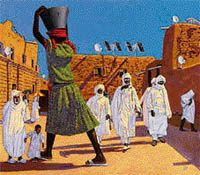 The Bedlam in Goliath is the fourth full-length studio release from The Mars Volta, the eclectic vehicle founded by vocalist/lyricist Cedric Bixler-Zavala and guitarist/composer Omar Rodr`EDguez-L`F3pez. The Mars Volta sets out their stall as the most inventive band exposed to today's conventional audience. In the opener, Aberinkula, no time is wasted in introducing the scale of what will follow. Sound manipulations, energetic jazz-metal clusters and elongated vocals peak and trough in tempo and intensity to create a display of contemporary progressive-rock madness. Wax Simulacra captures all the best traits of The Mars Volta in a blinding two and a half minutes with Ikey Owens' keyboards spicing it with mid-eastern flavour, while Juan Alderete's inventive bass gives it all the motion it needs to reach its climax. The musical skills gained from Omar's immense personal forays into free-jazz and jazz-rock fusion certainly shine through, but these have been prolonged and contextualised into a prog-rock aesthetic, which is what makes this such a mouth-watering outing.
Best track: Wax Simulacra
Worst track: Ouroborous
Rating: ****