Four cars gone in 15 min
Thieves target Sarabha Nagar market
Jupinderjit Singh
Tribune News Service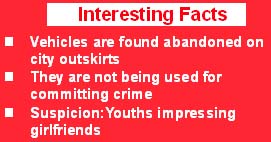 Ludhiana, March 4
Sarabha Nagar main market is witnessing an unusual trend of car lifting for the past couple of months. An unbridled gang of youths is stealing cars at will. Surprisingly, stolen vehicles are found abandoned on the outskirts of the city, especially Lalton village, after use for few hours or maximum two days.
Nearly 40 cars, ranging from the most insecure Maruti 800 to the latest models, boasting of safer locks, have been conveniently opened and taken away.
What is astonishing is that the cars are left after a few hours without a single thing, even audio cassettes or VCDs or any other accessory, missing from these. The vehicles have also not been used in committing any crime. Moreover, there is not a single dent on the recovered cars.
"It seems that the lifters are some youths, who steal cars and drive them around until they run out of fuel. They may have been impressing friends, especially girls," said a police official.
He was, however, worried at the trend, "The ease with which the youths are taking away the cars may set them up for a bigger crime."
At the same time, the trend exposes the loopholes in the police vigil. Cops sound alerts all around about a stolen car, yet the thieves conveniently drive the vehicle to the outskirts before they could be checked.
This Sunday night, four cars were reported stolen in a span of 15 minutes only from the busy market. Dr Muktinder Singh, a well-known homeopathic doctor, was one such victim. His white Maruti 800 was lifted at about 11 pm within minutes it was parked. He called the police control room to which two cops riding the PCR motorcycle No. 42 responded. The doctor had, meanwhile, called a couple of journalists and Akali Minister Hira Singh Gabria, who called the police for urgent action. Bingo, the car was found parked outside Sarabha Nagar Gurdwara, just 300 metres away.
The place is overcrowded on the weekends. As per an estimate, over 500 cars are parked there on such days. With just 15 cops on the rolls of the Sarabha Nagar police station, not more than five can be deployed here.
A police official said three Maruti Esteem cars, one Maruti Zen, a Honda city and a number of Maruti 800 cars had been stolen in the past two weeks only, but all of those were found.
Cops are puzzled on the motive of the crime, "It seems the youths are just getting a high stealing cars. The exact motive could only be known if one of them was nabbed." The police would have to intensify vigil in the area. Cops, especially in mufti, would prove helpful in catching the thieves red-handed.