The pride of Kaziranga National Park, the one-horned rhino, is under threat from poachers. Lack of well-equipped manpower, insurgency and a flourishing world trade in animal parts threaten the disappearing rhino,
reports Bijay Sankar Bora from Guwahati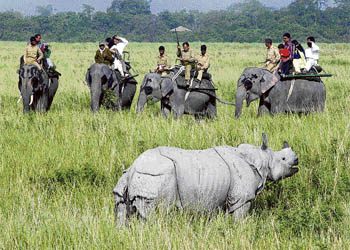 Visitors on elephant back taking a close look at a rhinoceros inside Kaziranga

A UNESCO World Heritage site, the sprawling Kaziranga National Park, located on the south bank of River Brahmaputra, has been under the spotlight for all the wrong reasons. A biodiversity hotspot, it is the largest habitat of the endangered one-horned Asiatic rhinoceros. There has been a steep rise in rhino-poaching incidents in the 859-sq km park. A well-coordinated network of poachers is virtually laying siege to the famous habitat, thereby making a mockery of the government's anti-poaching strategy.
Roses all the way
With roses in full bloom, R. K. Luna looks at the flower which now comes in many colours, shapes and fragrances
Rose, the flower of love, is cultivated throughout the world. The traditionally grown roses were fragile, wild, bloomed only for a limited period. They were also prone to various pests and diseases. These were found only in a few colours of red, white, pink, deep crimson, pink and purple. However, with the development of clonal technology, tissue culture and hybridisation, roses can be grown into a variety of colours, fragrances and bloom shapes.
Check out these geckos
T.S.N. Murthy on the gentle lizards which can bite and bark like a dog
Geckos are small, gentle lizards characterised by a soft dull skin and large unblinking eyes. Most of them are familiar to us as nocturnal (night) prowlers. As soon as night falls and the lights are switched on, they are attracted towards the light where they can be seen stalking insects. The amazing ability of these little lizards to run, sometimes even upside down, or on vertical surfaces, is due to the clinging pads on their feet.
Did Hitler sketch Disney characters?
The director of a war museum in Norway claims that he has discovered cartoons of Disney characters that Nazi leader Adolf Hitler drew during World War II. William Hakvaag said he found the drawings hidden in a painting signed A. Hitler, which he purchased at an auction in Germany.
An evening in Paris
You could walk past Belleville, where market stalls line the main boulevard. You could take in the world-famous touristy sites like the Louvre, Moulin Rouge, Notre Dame, Champs Elysees and, of course, the Eiffel Tower. Paris is the essence of Europe, says Gyan Marwah
Paris means different things to different people. For the young it is the most romantic city in the world. For those interested in history, it is a place that has been witness to some of the most important events of the nineteenth and twentieth centuries. And for many others, it is a city that symbolises the essence of Europe.
HABBAN A haven in the hills
Santosh Utsuk
If you are looking for a quiet retreat in the hills then Habban is the place you should be heading to this summer. Located in the picturesque hills of Sirmaur, this lush green village (6770 ft high) is 70 km from Solan. Direct buses are available from Shimla, Solan and Rajgarh but taking your own vehicle will add to your pleasure as you can stop wherever you want to enjoy the captivating greenery and refreshing breeze.
An affair to remember
Harjap Singh Aujla on the Dev-Suraiya romance which read like a movie script
Dev Anand in his autobiography Romancing with life unhesitatingly reveals his affairs. According to him, he was not a skirt chaser in real life. It was the women who took the initiative and Dev simply responded. But it was his four-year-long (1948-51) affair with Suraiya, the singing sensation and superstar of the Hindi/Urdu cinema, that left an indelible impact on him. The two wanted to tie the knot but became victims of religious bigotry.
From acting to making movies
M.L. Dhawan
Actors turning producers is not new to Hindi cinema. Commercial considerations, family loyalties and desire to make their kind of films has prompted actors from Ashok Kumar to Aamir Khan, Shahrukh Khan to produce films when any number of producers were ready to pay them their price and sign them for their films. Shahrukh Khan recalls that for a film he had to jump from a height of more than a 100 feet. He decided to do the stunt himself and suggested the producer that he should organise five cameras for the sequence to make impact.


Cancer belt of Punjab
The number of cancer patients has grown manifold in the recent years in the Malwa area. Local people feel excessive use of pesticides has contaminated the ground water. The pollutants are also found in the vegetables grown in the area, reports S. P. Sharma from Bathinda
Wrapped in blankets, a number of ailing men and women steadily head towards platform number 2, Bathinda railway station, at 9 pm to catch the train for Bikaner for treatment of cancer. Over the years, this particular train has come to be known as the "cancer train" (marizon ki train).
Casual elegance
Banalata Bipani
While recession and eco-consciousness has prompted European designers to try to figure out what their contribution to the ongoing decade is, economic liberalisation and the media blitzkrieg is offering Indian designers something their predecessors never had—the chance to create a label and an identity. However, there have also been problems. For instance, what should the fashion statement of the 2010 be? Should it be practicality? Should it be realism?