An affair to remember
Harjap Singh Aujla on the Dev-Suraiya romance which read like a movie script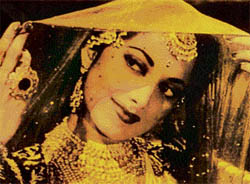 Suraiya's career nosedived after break-up with Dev Anand
Dev Anand in his autobiography Romancing with life unhesitatingly reveals his affairs. According to him, he was not a skirt chaser in real life. It was the women who took the initiative and Dev simply responded. But it was his four-year-long (1948-51) affair with Suraiya, the singing sensation and superstar of the Hindi/Urdu cinema, that left an indelible impact on him. The two wanted to tie the knot but became victims of religious bigotry. While Dev eventually overcame the trauma of a broken relationship and moved on, Suraiya decided not to get married.
Dev's childhood and teens were spent in his hometown Gurdaspur, Amritsar, Dalhousie, Dharamsala and Lahore. After completing graduation with Honours in English from Government College, Lahore, he decided to move to Bombay to pursue a career in films. But in Bombay, the going was not so smooth for the first three years. His first break was a Prabhat Studios production P.L. Santoshi's Hum Ek Hain, a film on Hindu/Muslim ties. The film was being shot in Pune. Since he was based in Bombay, he often travelled by train to reach Pune. During one of the journeys at night, he had a memorable encounter. He was alone in his compartment. At one station, an attractive woman in her mid-thirties, along with a fair-skinned man, entered the compartment. Both of them climbed the upper berth and became intimate. Soon the man left but the woman stayed on. She then seduced Dev. Dev Anand had many romantic associations, but his affair with Suraiya was special.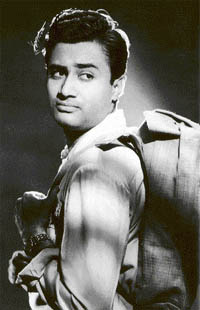 Suraiya was petite, sensuous and a natural singer. She was already a superstar when Dev entered the industry. Suraiya travelled in American sedans. Her entourage reflected a regal aura. It included several servants and members of her family. Dev was fascinated by Suraiya. He would keep complimenting her. Later, the admiration grew mutual. Suraiya, too, showered praises on Dev. The two did seven films together — Vidya (1948), Jeet (1949), Shair (1949), Afsar (1950), Nili (1950), Do Sitare (1951) and Sanam (1951). Till their first three films no one suspected a romance between them. However, after 1951, Suraiya's orthodox family members started dictating her life. It was during the shooting of Afsar that their romance became public and the opposition to their relationship became much more intense.
According to music director S. Mohinder, while he was composing the music for Nili in 1949, he developed a good rapport with both Suraiya and Dev Anand since all of them were from Lahore. While he would be busy composing music, both Dev Anand and Suraiya would come unannounced to the studio. Mohinder could see love brimming in their eyes. They would huddle together and often smiled mischievously. Their affair did a lot of good to Suraiya's singing. Her vocal chords turned softer and her voice become sweeter. While Suraiya's maternal uncle, also a friend of S. Mohinder, was sympathetic towards the lovebirds, Suraiya's maternal grandmother was against their relationship. Suraiya was so much hurt by her family's uncalled for interference and stubbornness that her acting and singing career started taking a nosedive from 1951 onwards.
According to Dev, their romance was at its zenith when they were paired in lead role for Afsar (1950). The music for this film was composed by S.D. Burman. The soulful "Man-mor hua matwala, yeh kisne jadoo dala, re yeh kisne jadoo dala" is among Suraiya's best. While shooting for the movie, their affair became a hot topic for the Bombay tabloids. Suraiya's grandmother, too, started opposing their affair openly. She went to the extent of not allowing them to shoot even innocent love scenes like kissing on the eyelashes etc. More than once she disrupted the shooting of a love sequence. Suraiya's mother was more reasonable, but she was snubbed every time she tried to side with them. Whenever Dev came to visit Suraiya at her apartment, he found his detractors already sitting in the drawing room. For Dev, this torture was becoming unbearable.
He tried to speak to Suraiya several times, but each time her grandmother picked up the phone and warned Dev to stay away from Suraiya. She also threatened Dev with filing a complaint against him. One day, while Suraiya's grandmother was asleep, her mother answered Dev's phone and assured a meeting between them. The time fixed was at 11.30 pm. At first Dev suspected it to be a trap. But he decided to go ahead. One of his friends from Punjab, Tara Singh (Tara Chand), a police officer in Bombay, decided to accompany him. Tara had a pistol in his pocket and a couple of torches. He gave one torch to Dev to flash towards him, if there was any trouble. The other torch was with Tara which was to be flashed back as a signal that help was on its way. The meeting place was at the roof of the six-storey building, where Suraiya lived on the ground floor. When Dev reached the meeting place at the scheduled time he found Suraiya standing behind the water tank. They embraced each other and for several minutes kept crying. After about half an hour they parted company to never meet each other again.
Dev Anand narrated the entire episode to Tara. Later, he told this to his elder brother Chetan Anand on whose advice he decided to part ways with Suraiya and pursued his film career. But for Suraiya, this setback was the beginning of her downslide. Meanwhile, Lata Mangeshkar had already emerged as a phenomenon in playback singing. Her shrill voice suited every actress and she kept churning out song after song. According to S. Mohinder, had Suraiya-Dev Anand romance culminated into marriage, Suraiya could have survived as a first- grade singer actress longer. Dev Anand too could have benefited out of the relationship. After the break-up, Suraiya did not act and sing in too many movies. According to S. Mohinder, Suraiya's later masterpiece performances were given in Bilwa Mangal, Mirza Ghalib, Shama Parwana and Rustam Sohrab. She was offered many singing assignments which she declined.