Next: Lawrence Road to be holy city's high street
Amritsar, March 11
The district administration is nurturing a dream to develop Lawrence Road on the lines of Chandigarh's Sector 17. To begin with, the road has been made one-way during the peak evening hours, from 6 to 9 pm.


Plans are afoot to develop the place on the lines of Chandigarh's Sector 17. — A Tribune photograph
Punjabi research scenario grim, say experts
Amritsar, March 11
Proper coordination is essential among scholars for factual research on Punjabi studies. This was stated by Dr Sutinder Singh Noor, vice-president Bhartiya Sahit Academy, Delhi, while delivering his keynote address at the inaugural session of a two-day UGC sponsored seminar on Punjabi studies and research being organised by the School of Punjabi Studies of Guru Nanak Dev University.

English language boost for BBK College
Amritsar, March 11
BBK DAV College for Women, in collaboration with IIT Kharagpur, has set up a unique language lab to enhance the communication skills of the students. Inaugurating the facility, the BJP MLA Anil Joshi said the scientific technique would bridge the learning gap of the language and help students to develop confidence and speak fluent English with proper expression.

Fiscal Facts


Teaching, research get major share of GNDU budget pie
Amritsar, March 11
Guru Nanak Dev University (GNDU) has decided to allocate half of its total budget of Rs 110.22 crore to teaching, research and education development. An additional provision of Rs 5 crore has been made for the research development fund, which would provide assistance to those undertaking research projects.

Patrolling cops chase down snatchers
Amritsar, March 11
The district police nabbed two snatchers, Amandeep Singh of New Model Town, Chheharta, and Arivinderpal Singh of Cheema village, presently residing at Daily Needs Street, Guru Nanakwara, here on Tuesday.


His lawns bloom with liquid manure
Amritsar, March 11
Earlier, it was his little kitchen engineering which yielded cooking gas and now is the turn of bio-waste obtained through the kitchen waste biogas plant. The liquid manure produced during the process has indeed proved to be a boon for the house lawns.

The Big Idea: Rajesh Khanna proudly shows his bundle of joy. — Photo by Vishal Kumar

Wild Call
The Jungle Book: Kids enthrall audience
Amritsar, March 11
Scenes of the jungle kingdom were staged as tiny tots of DAV Public School, played the roles of their favorite fairytale characters at their annual function.

Students of DAV School present a programme during their annual day function in Amritsar.
— Photo by Vishal Kumar



Hindi magazine to hunt for women talent
Amritsar, March 11
"Sampurn Mallika", a Hindi magazine which seeks to bring out the hidden talent in women who have got too busy with their daily chores was launched here this week. Pankaj Vig, editor, said the magazine would provide a platform to women to bring out their talent and share their ideas with the society.


Message In Motion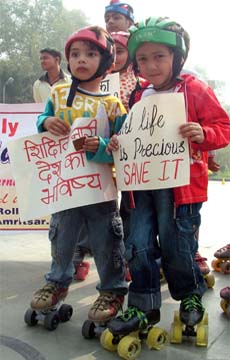 A rally, promoting women empowerment, was organised by a roller skating academy in Amritsar. — Photo by Vishal Kumar
Entertainment unplugged
Amritsar, March 11
Young artistes regaled audience during a national talent hunt contest, "Surtarang", organised at Art Gallery here on Monday night. The programme was held by Sangam Kala Group in association with a private FM radio channel.
Nippon visit leaves Spring Dale students enriched
Amritsar, March 11
With an aim to have better understanding of Japanese culture, Pranav Malhotra and Palak Aggarwal of Spring Dale Senior School spend a month in Japan under the host family exchange program. The program was an initiative of Spring Dale Educational Society and Youth for Understanding.
Roller skating rally held
Amritsar, March 11
A roller skating rally, organised by the Perfect Academy of Roller Skating, Company Bagh, was flagged off by local BJP MLA Anil Joshi to mark International Women's Day. The rally, led by international player Shashi Bhushan and a little girl Maan, after passing through various bazaars of the city culminated at Company Bagh.
Sangeeta is Miss Khalsa College
Amritsar, March 11
Students of BA/B.Com/B.Sc-part II of the Khalsa College for Women organised a farewell party, "Caravaan," for their seniors on the college campus recently. Students presented a colourful programme on the occasion. College principal Dr S.K. Mahal presided over the function.
SaharaOne holds 'Mata ki chowki'
Amritsar, March 11
In order to launch TV serial "Mera Sasural," SaharaOne organised "Mata ki chowki" (jagrata) in praise of Bavewali Mata, also known as Goddess Kali here on March 5. The spokesman for the TV channel said they were organising such programmes in over 20 major cities across four states like Uttar Pradesh, Madhya Pradesh, Punjab and Rajasthan.