Work on a platter
Usha Albuquerque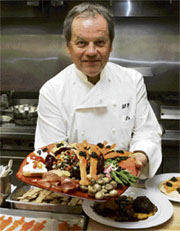 Italian pasta, Spanish paella, Thai food delicacies, French-style seafood. Today, you name it, and mouth watering food specialties are available. As more and more people dine out — not only to relieve mom in the kitchen, or when the cook is on holiday —eating out has become a regular lifestyle activity. And no longer does one go to the local dhabha next door, or to a cheap Chinese eatery, but fine dining has become an important adjunct to fine living, giving the culinary industry a whole new meaning, and an opportunity for professional chefs. Today, cooking is considered an art, and a craft that has given good chefs celebrity status. Cooking, these days has stepped out of the traditional kitchen and become a high-flying career. Good chefs command high salaries and are amongst the highest paid professionals in the hospitality industry.
Late comers
Women putting in longer hours at work, says a new study
Indian women are spending longer hours at their workplaces now, compared to the time they put in three years ago, to get an equal footing with their male counterparts, according to a study by industry body Assocham.


Careercature
Sandeep Joshi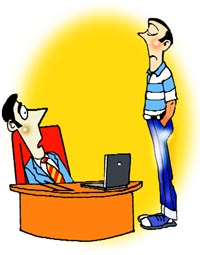 You are unfit to work here, you could try your luck with the hockey team.

Room For plenty
Shortage of technical architects, product managers
Indian software product development companies are currently witnessing a dearth of product managers and technical architects, according to a study. India currently has around 800 product managers and 2,500 technical architects though the demand for the same was three times more, according to Pari Natarajan, CEO of Zinnov, a consulting firm which has released the results of its annual survey on 'Compensation and Benefits 2008.'
Retention route
Smaller firms adopt employee-centric policies
Following in the footsteps of multinationals, smaller corporate bodies are adopting employee-centric policies to withstand the pressure of recruitment and retention, says a latest report.
Bits & bytes
Sri Lankan pilots up for grabs by Indian carriers
At least 28 pilots, whose contracts with Sri Lankan Airlines are nearing completion, may be hired by Indian carriers which are facing a shortage of airmen, media reports said in Colombo recently.
Career Hotline
Fire your ambition
Pervin Malhotra
Q Please tell me something about the Sub-officers course for getting into the fire service. — Satbir Chawla
A Although the Ministry of Home Affairs renders technical advice to states, UTs and Central ministries on fire protection, fire prevention and fire legislation, fire services, being a state subject, are administered by the respective States / UTs.
High-powered pay hike
Energy sector may see highest rise in salaries
The energy sector may witness the highest increase in average salary this year, beating the IT segment and others, and attract scores of youngsters, says a leading consultancy agency.
IIM-B witnesses spurt in slot-zero placements
The Indian Institute of Management, Bangalore, (IIM-B) saw 133 out of the total 256 students finding placements in the first two days of the placement procedure, a statistic unmatched across the IIMs.