Sour Dreams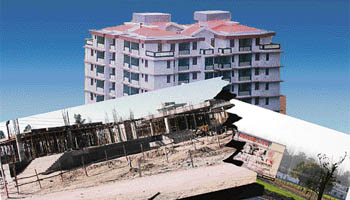 Inadequate infrastructure is a major roadblock in Ludhiana's realty growth, reports Jupinderjit Singh
It has been raining realty projects in the city with major developers and realtors making a beeline for the industrial capital of Punjab. While the city is on a high dose of swank multiplexes and residential projects, the supporting infrastructure like roads, flyovers, bridges, parking lots etc are in an abysmally poor state.
BPTP bags Asia's biggest realty deal
Noida seems to have beaten Mumbai on land prices. In what is being described as Asia's biggest land auction, a piece of 95 acres of land in Noida has gone for a whopping Rs 5,006 crore.
HOME DECOR
Curtain Call
Shedding bulk and brocades the curtain couture goes wispy sheer with dainty hand-painted, block printed silk, organza, organdy, cotton choices for the summer, writes Harsimrat Kaur
The tinsel town is known to set trends be it fashion or home decor. The latest to catch the fancy of lovers of novelty is the hand-painted curtains seen in 'saawariya'. though the movie was not a big hit, the painted organza curtains shown in the movie have triggereda a desire in the hearts of millions to go in for painted organza curtains to add romantic touch to their rooms.
How green is my terrace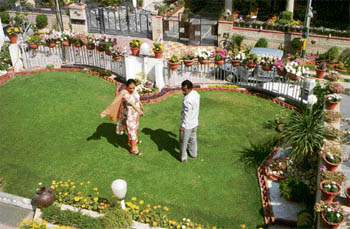 Let your 'green' spirits soar and bloom in terrace gardens with these tips from Satish Narula
The changing lifestyle and vertical growth of dwelling units has forced those living on the upper storeys to remain content with just a distant view of greenery. But those with a penchant for 'green' will create a garden anywhere and having a house on top floor too fails to dampen their spirits as they create an oasis even in the midst of concrete.
Chennai's French affair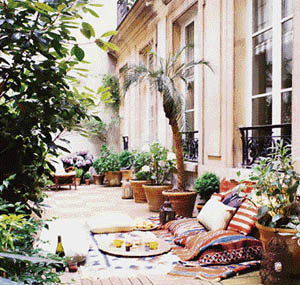 True Parisienne living has just rolled into South India. To begin with the VGN group, that has been in real estate business for the past six decades, has launched exclusive residential mixed size apartments — 'La Parisienne' , strategically located and designed for quality living in west Chennai. VGN's La Parisienne is situated in Mogappair in Chennai and incorporates vintage French architecture intertwined with modern amenities to create the finest living experience this side of France. The 'La Parisienne' portfolio encompasses three acres of landscaped property that includes an astounding 'Courtyard' spread across 19, 200 sq ft which will include a swimming pool, lawn, multipurpose hall and a mini theatre.
Foreigners on a shopping spree in US
Miami: Canadian retiree Sheldon Kovensky felt the lure that attracts so many foreign buyers to sunny Florida these days, falling prices for luxurious oceanfront condos that can be bought with weak US dollars. Kovensky has been scouring south Florida from Miami Beach to Palm Beach in search of a three-bedroom apartment on the sand.
TAX tips
How can I save capital gains tax?
Q. Me and my wife are doctors in private practice. My parents are no more and two of my elder brothers are settled in the USA and one brother and three sisters are in India. I have a daughter and a son, both major. My son has just started earning. With the advice of one of my friends, I had opened a HUF account with Rs 11,000, with myself as karta. Me and my wife have 12 kanals of agricultural land, some shares of reliance and L&T purchased about 20 years back. Kindly guide me how to proceed further in respect of maintaining the account and what are the best options to raise the capital.
Top players want Orissa govt's help in acquiring land
Top real estate companies, which plan to set up mega housing projects in Orissa want the state government to acquire land and auction it to promoters. Large realty firms like DLF, Unitech and others, are interested in setting up projects in Bhubaneswar, Cuttack, Sambalpur, Jharsuguda, Berhampur, Puri and Rourkela but are unable to secure required area of land.
Realty bytes
25 pc jump expected in 2008 salary
New Delhi: The realty sector is projected to witness the highest salary rise in 2008 in India, even ahead of retail and telecommunications industries, says a survey. The real estate is expected to record a salary hike of 25 per cent this year, though marginally less than 25.2 per cent seen in 2007.
Buzz on Bourses
DLF Assets to raise Rs 2,000 cr through pre-IPO placement
New Delhi: Billionaire businessman K.P Singh-promoted DLF Assets Ltd is looking to raise about Rs 2,000 crore through pre-IPO placements by month-end to fund various projects, but may delay its public offer in Singapore due to turbulent stock market conditions across the world. DLF Assets, which has been set up to acquire completed commercial projects of India's most-valued realty firm DLF, is in the process of completing the pre-IPO placement, market sources said.