Punjabi antenna
Quality stuff in short supply
Randeep Wadehra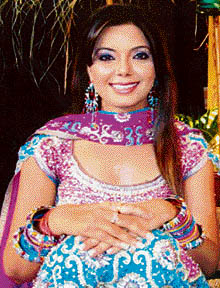 Apart from being a TV anchor, Satinder Satti is also an actress, poet, dancer and singer
Cricket almost overshadowed the two Budgets and the contrasting fates of Kashmir Singh and Sarabjit Singh. While cricket has become the opiate of the couch potato, the human interest story was understandably more emotive and the news channels gave the escape-from-Pakistani-gallows tale its due airtime. But there were other images on the small screen, too—of porters celebrating their 'promotion' to the gangman status.
While, for the ruling coalition, this may be a good vote-catching gimmick in the election year, no news channel felt it necessary to investigate the effect of this step on the quality of services rendered to railway passengers, and the long-term financial costs involved. Worse, will the public have to deal with one more segment of government employees now? As far as the issue of waiving loans to farmers is concerned, one has yet to see a detailed pros-and-cons debate on a television forum, although Punjabi farmers are among the worst sufferers of the debt burden.
Is the waiver really going to benefit Punjab's small and marginal farmers? If yes, then to what extent? How do such steps resolve the problems of uneconomic land holdings and socially induced wasteful expenditure? Hopefully, we would be enlightened on these issues in the near future. Let's look forward to a suicide-free countryside.
Music VCDs regularly hit the market. One of them is Aao Sare Nachiye, a collection of song and dance numbers performed by such artistes as Satwinder Bugga, Nachattar, Satinder Satti and others. Most of these were telecast on ETC on the New Year's Eve. Quite a few of these are hummable. Satti's Kikkaran-Beriyan and Koka numbers reveal she is no mean crooner. It appears that the training in classical music has started bearing fruit. Now, apart from being a TV anchor, actress, poet and dancer, she has become a singer, too.
Here is a clarification. This column is not anti-music. In fact we are proud of the fact that our folk culture, which resounds with the baints of Waris Shah's Heer and dohre of Hashim's Sassi Punnu, has given birth to songs for every occasion. Haria, doli, suhag, vatna, ghorlain, sitthian, vaen and alhanian reflect variegated moods generated by assorted social occasions and personal circumstances. Admittedly, it would be a folly to allow our creative genius to stagnate in the backwaters of the past, but it would be wise to use our oral literature as the launching pad for new compositions.
For example, Harbhajan Mann has recreated Mirza quite effectively using modern instrumentation and technique. Gurdas Mann has done a great job in Kee khattya mein teri Heer bankay and, of course, Hans Raj Hans's classic song Silli silli still resonates in every Punjabi heart. How can one forget the Ghori sung by Sarabjit that pulled at the heartstrings of young Punjabi sisters? Whenever these songs appear on the small screen, entire households go into a hush. The point is why are such compositions exceptions rather than the rule? It is a torture to watch one mediocre song after another for hours in the hope of espying a quality composition. Believe me.