Small steps to the big screen
Eleven-year-old Darsheel Safary was recently awarded the Filmfare Critics Award for Best Performance. Shoma A. Chatterji says many child artistes, in the past too, have given indelible performances in Hindi films. While some of them went on to be successful adult actors, others simply faded away
Whatever happened to those naughty kids who regaled us all in Mr India? Of the many child actors, Aftab Shivdasani is the only child to have grown to become a hero. What happened to the two lanky boys from Gulzarís Kitaab? Master Alankar grew up to become Alankar. But he could not even scratch the surface of the big screen as hero. His kid sister, Pallavi, took to television.
Master Raju, the chubby little face of Amar Prem grew up, did a few negative roles as an adult actor and faded away. Master Rattan of Raj Kapoor's Boot Polish went away to Pakistan when he could not get roles as an adult actor. Baby Naaz (Boot Polish) managed to get marginal roles when she grew up. She got into television in mature roles till she passed away. "I had a horrible childhood," she once confessed in a documentary, Children of the Silver Screen. "I came back at ten at night to see my parents tearing each other off. Most of the time, they did not care whether I had dinner or not. It was terrible," and broke into tears.
Of the two boys in Rajshriís box office hit Dosti, only Sanjay Khan made it as hero. He resurfaced years later on television with The Sword of Tipu Sultan. Today, he basks in the reflected glory of two top stars within the family ó son Zayed Khan and son-in-law Hrithik Roshan.
It is a hard struggle for child actors to grow up and become top stars. Directors drop them when they go through the awkward stage of adolescence. Scripts do not have adolescent characters to cast them in. So, when they return after a few years seeking adult roles, producers turn them away.
Stars like Meena Kumari and Madhubala who began as child actors could go to the top because their parents and guardians left no stone unturned to see that their girls made it big. There was much less competition then. Madhubala was a child actor for five years before she played the lead in Neel Kamal (1948). Meena Kumari made her debut when she was four as Jairajís daughter. Sridevi was four when she made her debut in Thunaiyan (1969) in Tamil. At 11, she was the leading lady. She never looked back.
"Today, when I look at my kids Jahnavi and Khushi enjoying their childhood, I donít miss my younger days. Thatís because I didnít get to enjoy that phase. You miss something and then lose it. I was too busy working. But I cherish every moment life gave me when I was growing up. In my time, roles were written keeping me in mind though I was just a teenager," reminisces Sridevi.
Almost every child actor who has become a top star belongs to a film family. This underscores the fact that it is nearly impossible for a child actor from outside the industry to become an adult star. Many star sons have done child roles when they were small.`A0They grew up to become stars. At six, Shashi Kapoor starred in Jayant Desaiís Tadbir (1945). His other early acting roles were in Bhakta Dhruva, Bhakta Gopalbhaiya, Bhakta Bilwamangal and Veer Babruwahan. He also played the boy Raj in Awara. Nargis, daughter of Jaddanbai, who created her own production banner, started her career at 14 in Talashe Haq and quickly progressed to become a top actress.
When Nutan was 14, she starred in Hamari Beti, produced and directed by mother Shobhana Samarth, a famous star-turned-director of her time.`A0The chubby-faced, cuddly Rishi Kapoor was a teenager when his father introduced him in Bobby and he became a star overnight. His wife Neetu Singh, not from a film background, began at ten and established herself in a double role in Do Kaliyaan. But she could not shine half as brightly as an adult star inspite of her talent. Aamir Khan played one of the three brothers in Yaadon ki Baraat (1973) under the directorial baton of Naseer Hussain. Like many star children, Hrithik Roshan made his debut in Aap Ke Deewane (1980) when he was six. He did a major role in Bhagwan Dada (1986) with Rajnikanth and Rakesh Roshan. Sanjay Dutt played a small role in Reshma Aur Shera when he was 12. All of them are big stars today.
Among child actors from a non-film background, Tabassum, who played significant roles in Deedar, Baiju Bawra and Baap Beti, grew up to make a name for herself not as heroine, but as the celebrated television anchor of a talk show, Phool Khile Hai Gulshan Gulshan. Daisy Irani, who, as Master Raja was a bit hit in films like Ek Hi Raasta, Bandish, etc. quit the scene when, while playing a maid in Kati Patang, she was reportedly slapped 27 times by hero Rajesh Khanna who could not get it right. Her kid sister Honey, also a famous child actor, did not try adult roles at all. She married Javed Akhtar to shift later to writing stories for films. Sarika gravitated to adult roles but has had little scope to prove her tremendous talent. Sachin did okay in Marathi cinema, but was forced to shift to television to prove his mettle.
Urmila Matondkar, who played a child actor in Shekhar Kapoorís Masoom, stands tall among her peers. Jugal Hansraj who played her stepbrother in the same film, is still struggling to get a hold in Bollywood. Aftab Shivdasani, Kunal Khemu (Hum Hai Rahi Pyar Ke) and Hansika are the only recent child actors who have graduated to adult roles and seem to be doing fine. But whether stardom will elude them or invest them with staying power at the box office, only time will tell.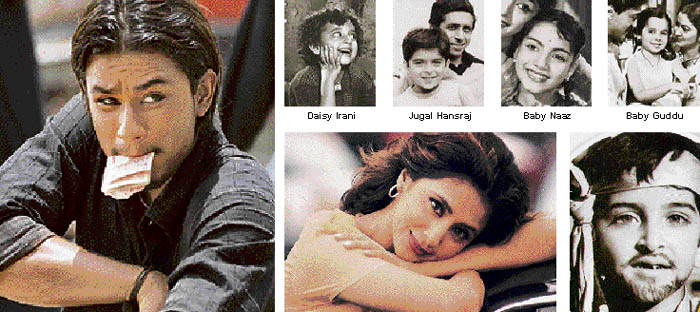 Kunal Khemu in a still from Traffic Signal; Urmila Matondkar played a child actor in Masoom; and, Hrithik Roshan as a child artiste