Beyond the waiver
The loan waiver will give farmers respite but only a revamp of the entire agricultural system will ensure their sustainability, writes Yoginder Gupta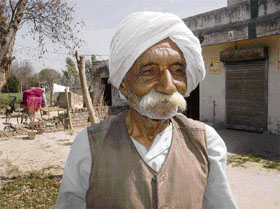 Raunki Ram says that with his previous 'agriculture loan' being waived, he will now take another loan for his grand daughter's marriage. Photo: Pravesh Chauhan
Jubilation, confusion, apprehension, secrecy and disappointment are the emotions which farmers in Haryana display after Union Finance Minister announced a scheme to waive off bank loans of small and marginal farmers in his Budget speech. The farmer is jubilant that he would be free from his loan burden. He is confused to what extent the government would take care of his loan burden. He is apprehensive to what extent he would have to shell out clandestinely to bank and other officials to take the benefits of the scheme.
He, though, wants to avail himself of the opportunity, yet he is shy of disclosing to his community that he is a defaulter. He wants to keep his identity a secret, at least while talking to unknown newsmen who want a quick quote from him.
Disappointed are those who had diligently repaid their loan. They wish Chidambaran had something for them too. The farmers, who converged in Delhi on March 9 for offering their Dhanyawad to Congress president Sonia Gandhi and Prime Minister Manmohan Singh for the waiver, are still not clear about the eligibility conditions. Bank officials, whom they approach for guidance, are as ignorant as the farmers are.
Ram Pyara of Mohri village in Ambala district says: "I approached my bank manager to know how much I would benefit from the scheme, but he was not able to tell me anything. For the time being, I have decided not to repay the next instalment of my loan till the things become clear."
"It is not clear whether only those farmers who have yet to pay the entire amount of their loan will benefit from the scheme or those who have repaid the loan partially would also get some relief," says Rishipal, a small farmer of Bahu Akbarpur village in Rohtak district.
"It is difficult to convince the farmers that the scheme is merely a proposal so far and it will take a legal shape only after Parliament approves it. But the farmers are insisting for immediate issue of certificates of loan clearance," said a bank official of a rural branch in Panipat district. Najar Singh, a small farmer, who had taken loan from a nationalised bank, says that he and other fellow farmers are eager to know the fate of their loans before some legal problem crops up in the implementation of the scheme. Subhash Rana of Khezrabad had taken a loan of Rs 35,000 from a nationalised bank. He says he has already paid more than 80 per cent of the debt. As per newspaper reports I do not now owe any money to the bank. I am a small farmer and I hope the finance minister's announcement would benefit me also. But the bank officials are not yet confirming the status of my loan," says Rana. The confusion about the benefits of the scheme has arisen because Chidambram cleverly slipped in a word, "overdue", in his speech. This has confused everyone, bank officials as well as the farmers, which loans would be entitled for waiver.
Devi Singh of Balsamand village near Hisar says he owes around Rs 80,000 to a bank as principal and interest. But he has no clear idea about whether his liability would be waived? Even the bank officials do not know it as they have not received any instructions so far. The tehsil officials have no idea. So, I am keeping my fingers crossed till then", he says. The farmers also want to know the status of the loans granted by the cooperative banks. Mahinder Singh Chaudhary, the newly elected chairman of the Radaur primary agriculture cooperative society, says there are over 2,000 small farmers who have taken loan from cooperative banks in his area. Hundreds of the farmers approached him to ask about the status of their loans. "How can I tell them till I myself get a list of the beneficiaries," asks an exasperated Chaudhary.
There are many who are not in favour of the blanket waiver. Dhanpat Singh of Baas village in Hisar district says he had paid his loan back on schedule. It had come only as a disadvantage for farmers like him who had toiled to repay the loan. "The next time round, I will be in two minds, to pay or not to pay and wait for a waiver", he said. Nevertheless, he thinks the government has done well to provide debt-ridden farmers some relief. Gajraj of Mangali village of Hisar district says "The waiver is good but unless the government compensates the banks, they would close their doors for us in the future. I hope the waiver won't compel us to go to mahajans and arhtiyas in times to come", he adds.
Tejbir, a progressive farmer of Pakasma village in Rohtak district, maintains that the very concept is against social interest and aimed at wooing the rural voters. "Instead, the government should ensure that good-quality seeds, manure and other farm inputs are made available to the farmers at affordable rates," he asserts. Echoing what Tejbir says, another farmer from Kiramara village in Hisar district, Yudhvir Singh, thinks the government needs to take a hard look at the farmers' financial problems. waivers are no remedy, only symptomatic relief. We need to make farming profitable to solve the problem," he says. Agriculture experts too seem to have some reservations on the blanket waiver. Dr R. K. Malik, Director, Extension Education, CCS Haryana Agricultural University, Hisar, says the loan waiver will certainly provide much-needed relief to the debt-ridden farmers. However, for the waiver to become really meaningful, it has to be followed up by a multi-pronged strategy to educate farmers and improve agricultural practices.
Farmers should learn fiscal planning and take loans only on the advice of technical experts, that too for buying crop inputs. According to Malik, loans for machinery need to be discouraged. Such loans are misused for meeting other family requirements. Most defaulters belong to this category. "The present agricultural system does not provide for daily earnings for farmers. They get money only at the end of a crop season. We have to ensure that their requirements are met through regular income from other sources. These could be employment guarantee for at least three to five days a week and diversification into dairy farming.
Farmers also tend to use farm inputs like fertilisers recklessly in a futile bid to raise productivity. This raises the cost not production. This leads to losses and the farmers are unable to repay loans. Thus, in future we have to train them for multiple land use to take more than two crops. There is little requirement for mechanisation till multiple land use is in place. Tractors and other machinery come into picture only in such a situation, he says.
Malik says rural youth have to be imparted skill-based training as they tend not to go in for farming as it is labour intensive. Employment avenues have to be created for them to make rural households sustainable. Till the problem of unemployment among farming families is solved, loan arrears will continue to be a problem. But, he says, the loan waiver is the best opportunity for the farmers to make a fresh beginning and for the government to improve the agricultural system.
(With inputs from Raman Mohan, Sunit Dhawan, Nishikant and Vishal Joshi)