Ulta Pulta
Note-worthy
Jaspal Bhatti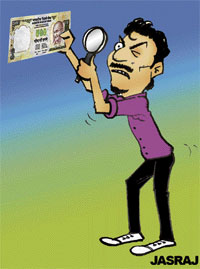 Raees, a painter who had done our house last year, had been making rounds for his pending payment. However, due to financial crunch, I was unable to pay him in time. Last week, I called him up to collect some cash but he requested me to keep his payment pending for some months. I said, "Have you gone crazy? First you get on my nerves regarding the payment and now you are not ready to take it?"
He said, "Counterfeit currency is profusely circulating in the market and I don't want to take risk."
Recently, I went to buy a pair of shoes. When I gave a Rs-1000 note to the shopkeeper, he looked at me doubtfully as if I had been printing fake currency. The day is not far when one will find notices in front of religious places saying, 'Nakli note chadane se aapki murad puri nahin hogi'. I have heard that printing technique of the counterfeit currency is so sophisticated that the Reserve Bank of India is planning to outsource their work to one of these counterfeiters.
As the train started pulling out of the station a passenger asked a newspaper vendor for the vendor, he hurriedly handed him over a Rs-20 note. There was no time to collect change because the train had caught speed. His co-passenger, feeling sorry for him, said, "You had to unnecessarily part with Rs 20 for a Rs-3 newspaper."
"Never mind. That was a fake note", he said cunningly. But as soon as he looked at the newspaper he started swearing.
"What happened?" asked the co-passenger. He shouted, "Cheat! He gave me last week's paper."