The Race is on
This time, fashion precedes a movie's release!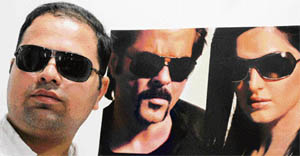 ABBAS Mustan's sprint for supremacy in tinsel world with their latest flick Race is yet to take off, but the race for sunglasses sported by leading lights in this motion picture is in progress. Folks, you are on the right track. In the race to outdo each other in the contest of good looks, younglings are picking up peepers you will see Anil Kapoor, Sameera Reddy and even Bipasha Basu wearing in the movie that hits screens on March 21. Bold and bright or sweet and feminine, floral prints and flower-inspired designs dominate summer fashion. So, ladies & gentlemen, refresh your wardrobe with at least one floral clothing item, suggests Anandita Gupta
THINK flower petals, delicate sprigs and bold bohemian blooms… all floating here n' there. Powder pinks, jarring fuchsias, flaming oranges, leafy greens, muddy browns… rhapsodies of varying hues. Floating, fluttering fabrics, lush landscapes and floral bouquets. Well, that's the fashion world's current darling bud – floral prints. And while we women are climbing up the stylo-meters with all things flowery, can men just sit back?

Flower power
FASHIONHOLICS rejoice! For, as we slip into that perfectly sprightly, springy mood, here's reason enough to indulge our inner feminity. A chance, indeed, at bringing out our soft, sensuous selves. An occasion to charm everyone around with freshness and femme fizz. And all this by celebrating something that summer is essentially about – flowers. Wondering what to do? Just stock up on a few floaty dresses and watch the magic!



Photos by Pradeep Tewari
Wardrobe courtesy: Ebony & Style Check
Learn modelling etiquette from Femina Miss India finalist Shriya Singh
Standing at 5 feet 8 inches, Shriya Singh towers over most men in the room. But, height is not her only asset. This Chandigarh girl who became Gladrags runner-up, Miss Tourism International-2005 and then Femina Miss India finalist last year is now back as the director of newly-launched Storm Modelling and Finishing School-8.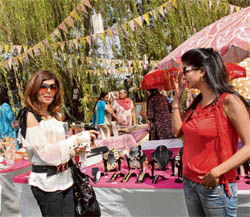 A shopping experience worth savouring
How about feeling the romance in the air with fluttering gossamer fabrics, juicy hues, lush, delicious accessories, object d' art and body-skimming essentials? After all, isn't summer the perfect time to get drenched in a shower of flirty freshness? And who knows it's better than the annual Vanity Fair at Whispering Willows, Zirakpur, the annual spring-summer exhibition that's come calling to the town for the 8th time. A shopping experience gone 'bigger and better' than the last year, the exhibition boasts of more than 80 countrywide stalls!
Photo by Pradeep Tewari


Little Interview
Hey Sajid!
Our 'funny guy' is all set to serve a romantic comedy yet again

Guess what? It's Sajid versus Sajid once again. Yes, the Heyy Babyy guy Sajid Khan has teamed up with his favourite producer Sajid Nadiadwala for his upcoming untitled film. And he's quite excited about it. He has a reason to be. His debut Heyy Babyy, after all, has been rated among the top ten Bollywood profit makers. And his excitement spills over the telephonic chat we have with our funny man!

Matka Chowk
Reach out
A lot of these new-fangled self-help books are full of these one liners – 'Practise random acts of kindness', 'Smile – it is free', 'Reach out – it is good for your soul'. We spend our hard-earned money to buy these books. Soon, they repose on our bookshelves and gather dust.

Punjabi lyricists & music composers need to wake up to their right to royalty
Here's an opportunity for any lyricist, composer or song publisher to get a royalty for their volume of work. All one has to do is shell out Rs 500 and become a member of the Indian Performing Right Society Limited.

Fashion Feast
SStudio SStrings, a Noida-based fashion house, brings an imported lingerie line for women from Bangkok and Malaysia. Meena, who represents the fashion house has held exhibitions here earlier and brings fashion accessories like bags, shoes, belts, sunglasses and make-up kits to give her clients a complete shopping experience.

First Day First Show
Law & its flaws


Michael Clayton
watchable
THERE is cinema beyond Ocean's movies, seems to be the refrain of George Clooney who, of late, has started acting in movies that have substance and sensitivity. Syriana and Good Night, Good Luck and now Michael Clayton. The charismatic actor is the main protagonist in the racy thriller that lays bare the lows of high business with utter conviction.