Pall of gloom descends on Bhikhiwind village
Varinder Walia
Tribune News Service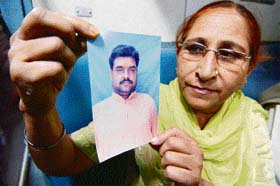 In this file picture Dalbir Kaur shows the photo of her brother Sarabjit Singh. — AFP photo
Amritsar, March 16
A pall of gloom descended on the native village of Sarabjit Singh, Bhikhiwind, following the breaking of the news that he will be hanged to death in Pakistan on April 1 even as his inconsolable wife Sukhprit Kaur and daughter Poonam sat glued to the television to hear the news.
A large number of villagers thronged the house of Sarabjit to console the family members. Dalbir Kaur, sister of the condemned Indian prisoner, who has been camping in New Delhi to meet Indian government officials , said the news came as a "bombshell", as she was expecting the release of her brother like Kashmir Singh. However, Sukhprit Kaur said the government of India should immediately take up the matter with Pakistan because Sarabjit Singh is a victim of mistaken identity. She is, however, keeping her fingers crossed.
Meanwhile, Paksitan's human rights minister Ansar Burney, who was instrumental in the release of Kashmir Singh, feigned ignorance about the rejection of clemency appeal by Sarabjit Singh and his probable hanging on April 1. The grief-stricken family of Sarabjit Singh said it was expecting his release because Ansar Burney had assured them that he would take up the case with the President of Pakistan.
Punjab's public relations minister Bikram Singh Majithia had also spoken to Burney for ensuring the release of Sarabjit Singh when he went to the zero line at Attari border at the time of the release of Kashmir Singh.
The development has also saddened the family members of other Indian prisoners, including Kirpal Singh, languishing in Pakistan jails. Kirpal Singh, who is in Kot Lakhpat Jail of Lahore, has been facing death sentence by the Pakistan military court on spying charges. He was arrested in 1992.
Dalbir Kaur will be meeting Rahul Gandhi and other senior Congress leaders tomorrow in a last-ditch effort.
She has sent all relevant documents, including ration card and voter list, which showed that he was not Manjit Singh who was involved in bomb blasts in Lahore and Multan that killed 14 persons.