Muslim women law board unveils model nikahnama
Shahira Naim
Tribune News Service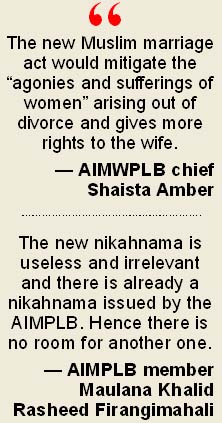 Lucknow, March 16
While the All-India Muslim Personal Law Board (AIMPLB) is against the apex court's direction of compulsory registration of marriages, the All-India Muslim Women Personal Law Board (AIMWPLB) has fully endorsed the suggestion as "pro-women".
Releasing a model nikahnama drafted by the AIMWPLB, president of the board Shaista Ambar said instead of resisting the Supreme court's move, the AIMPLB should have welcomed it with open hands as it would provide the much needed safeguard to vulnerable women who at times find it difficult to even prove their marriage.
Ambar declared that her board was in favour of having the registration of marriage at three levels: a written nikahnama with the couple; a copy with the qazi who conducts the nikah and also with office of registration of marriages.
Speaking on the occasion, noted scholar Maulana Abdul Qayyum criticised the AIMPLB for drafting a nikahnama without consulting women. "As a result it has not been accepted by the community", he said.
Sharing the salient points of the nikahnama released today, Ambar said it had been drafted in the light of the Quran and relevant Hadith that underline the rights of women. It lists duties as well as responsibilities of both the bride and the bridegroom entering matrimony.
The four-page nikahnama, available in both Hindi and Urdu versions in a single booklet, lists 17 points that the couple should keep in mind. It not only prohibits dowry and domestic violence, but also lays down the terms on which religion prescribes the bridegroom to treat his wife.
Quoting the Quran, the nikahnama states that as per his economic status, the man is expected to provide his wife cooked food, stitched clothes and even seasonal fruits.
It, however, gives women the right to divorce only under certain conditions, which includes getting married by not disclosing that her partner is an AIDS patient.
It also equates talaq with Khulah, the right of women to leave their husband.