M A I N N E W S
Six killed in HP landslide
M. C. Thakur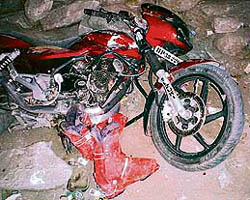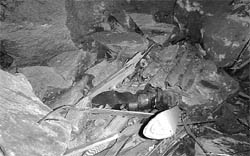 A damaged motorcycle (top) and belongings of victims of landslide on the Manali-Rohtang road on Monday. — Photos by
M.C. Thakur
Manali, March 17
At least six persons were killed and eight injured when a huge rock rolled down from the Nehru Kund hill on the Manali-Rohtang highway, about 5 km from here, this evening. The death toll could be higher as the debris brought down by the slide was spread over a large area.
The slide buried about 500 m stretch of the road along with a dozen improvised shops (khokas), one temple and four houses. Some vehicles, including car and motorcycles were also feared to have been buried.
While three bodies have been recovered, injured persons sent to the local mission hospital and the community health centre. Two bodies have been identified as those of Tej Ram of Shanag and Prem Lal of Buruwa. The third body was mutilated beyond recognition. One person, Jiwan from Mandi, died in the Lady Willington Mission Hospital, Manali while Paras, Rohit, Bunti and their driver from Delhi, Kishan from Goshal, Rakesh from Bahang and Baba Inderpuri were injured.
According to eyewitnesses, the hillock came down with thunder, which rattled the doors and windows of buildings, located far away. Initially, some boulders rolled down which served as a warning to shopkeepers and tourists who ran away from the spot towards the river to safety.
Rescue operations were on to retrieve the vehicles and any other victims buried. The sub-divisional magistrate Vinay Singh, assisted by a team of police, was supervising the operations.
Rescue operations were hampered due to the darkness, though search light had been being used to continue search for victims. A team of the border road organisation led by Lt Col Jaswant Sinha was also engaged in the rescue operations with all the available earth moving machinery.
The famous Nehru Kund water spring was buried along with the temple. Local people informed that some tourists might also have been buried under the debris. Hundreds of vehicles, mostly of the tourists who were away towards Rohtang for sight seeing, were stranded as the landslide blocked the road.