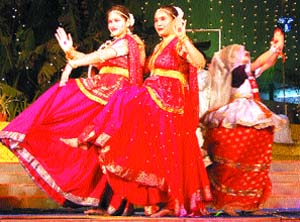 Students of SL Bhawan School put up a scintillating performance during a cultural programme in Amritsar on Tuesday. — Photo by Vishal Kumar
'Slap abetment to suicide charges on travel agent'
Amritsar, March 18 Family members of Harmandeep Singh, who committed suicide on March 8 for delay in police probe besides registration of a case against a travel agent, have urged the Punjab Chief Minister and DGP for registering a case of inciting suicide against the accused.
Printing industry jittery over high iron prices
Amritsar. March 18 The steep hike in the iron and steel prices has rung alarm bells for packaging machinery manufacturers, who are already reeling under power shortage and entry tax burden.
Ayurveda bowls over young Aussie


Amritsar, March 18
Impressed by yoga and the traditional Indian system of medicines like ayurveda and Unani, an Australian citizen, Mark Williams, is in India to imbibe knowledge about these traditional systems of medicine. Talking to The Tribune, Mark said he was amazed by the Indian traditional system of medicines, especially yoga, through which he had been able to make him self happy and be in sync with his body.
Mark Williams, Australian college student
'Hockey in dismal state'
Amritsar, March 18
The Indian hockey team's debacle at the Olympic qualifiers was not a surprise because the required changes in the playing pattern were not made as per the world standards.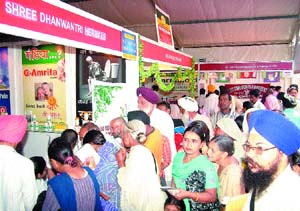 Fat attendance at slim-down stalls
Amritsar, March 18
The stalls put up by Ayurvedic companies displaying medicines for slimming and rheumatic pains drew large crowds as young obese patients and old people thronged these to find cure for their ailments.


People gather information on herbal products and Ayurvedic medicines during the "Arogaya" fair in Amritsar. — Photo by Vishal Kumar
Vocational Skills
Modern training a must for ruralites: DC
Amritsar, March 18
As many as 125 students, who got vocational training in 17 different courses under science and technology and entrepreneurship development (STED) project, were conferred with certificates at a function organised at Bachat Bhavan here on Friday.
GNDU seed contest to protect plant biodiversity
Amritsar, March 18
Guru Nanak Dev University's department of botanical and environmental sciences organised a competition on "Seed collection and display" in the botanical garden of the campus today.
When animals figure on phulkari
Amritsar, March 18
The juxtaposition of playful animal figures with embroidery motifs drawn from "phulkari" in paintings at the art exhibition titled "Mind Games" denoted extinction of beauty. The artists - Daphy Brar and Sonal Singh - said though both of them preferred using two different mediums, yet each of the 12 paintings mirrored the "mindscape." While Daphy explores the purity of oils, Sonal Singh celebrates acrylics.
Creations of Daphy Brar and Sonal Singh on display. — Photo by Vishal Kumar

NRI donates 4 lakh to pingalwara
Amritsar, March 18
Jagraj Singh Saran, a UK based NRI, on Friday, donated about Rs 4 lakh to a pingalwara.
Abacus competition: Spring Dale students bag trophy
Amritsar, March 18 Jaideep Singh of class V-E won the second runners up trophy in Level 1, while Jeevbasan Singh of class V-G won the third runners up trophy in Level 2 in the Fourth SIP Abacus and Brain Gym National Contest.