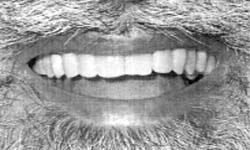 MOST of us tend to nibble something or the other every now and then, alone or in company, due to a variety of reasons. However, we do not realise that whenever we eat any sugary substance in any form and quantity, it accelerates the formation of acids in the mouth. This happens because the bacteria there react very aggressively to sugar. Being microscopic in size, these bacteria do not require large amounts of food to produce acid. Repeated attacks of such acids on teeth lead to the formation of cavities.
It has been proved beyond doubt that the body's defence mechanism — in this case, saliva — is capable of protecting the teeth and repairing the damage done by acid attacks on an average three times a day. More than three such attacks result in a microscopic pit on tooth enamel, and more attacks lead to visible cavities. Thus, it is safe to conclude that a decrease in the general production of saliva leads to a reduced amount of protection against cavities.
This is precisely what happens as we age. From the dental health point of view, some of the important physiological changes that occur in our body are (i) a decrease in the production of saliva, which contains a number of digestive enzymes and other protective components like immunoglobulin — IgA and IgG, — (ii) physiological gum recession, and (iii) laxity of tonus of oral musculature.
Physiological gum recession increases the space in-between the teeth (inter-dental), resulting in large food lodgment areas. The decrease in the tonus of the oral muscles leads to late clearance of food particles from the oral cavity. These factors are devastating for dental health. The occurrence of root caries at gum levels in a large number of teeth at old age is very common.
Is it possible to have the teeth in perfect health in old age? The answer is a resounding "Yes"! Your teeth can serve you for all your life. Dental diseases are, to a very large extent, preventable. All that is required are these simple precautions that will protect the teeth as you age:
(i) Clean your teeth with brush, floss/interdental brush.
(ii) Use fluoridated tooth paste.
(iii) Do not eat sugary items in any form more than three times a day. The total frequency of intake of food in a day, howsoever small in quantity, should also not be more than five times a day.
There is common belief that sweet things will not harm teeth if one brushes immediately after eating. This is not so. The cavities are produced by bacteria, and we cannot eliminate them altogether. Some quantity of bacteria will always be present in different nooks and corners of the mouth. Sugar taken in any form and quantity at any time will produce acid resulting in damage to the teeth.
Inter-meal sugary snacks are more harmful than the ones taken at meal times. The sticky sugary items are more harmful than the non-sticky ones. Here is good news for cheese eaters. Ending your food with a piece of cheese is known to prevent demineralisation of teeth.
With growing age, our immunity in general goes down, thus increasing the importance and requirements of proper brushing. Stress should be given to the physical cleaning of teeth, spending more time and effort using soft toothbrush and fluoride toothpaste, interdental brush and flossing.
Here is a clever tip to keep teeth young as we age:
Brush thoroughly well before a meal with fluoride tooth paste. By brushing just prior to a meal, the number of bacteria in the mouth is significantly reduced. As such, the amount of resultant acid production and other toxins is less. Secondly, fluoride toothpaste prevents dental caries.
For getting the desired benefits as one ages, the time required for brushing is around 5-7 minutes: dry brush first, without tooth paste, and as the mouth becomes filled with spit, it can be spat out; this is continued. This way the bacteria are dislodged slowly and thrown out of the mouth along with each spit. After the dry brushing, apply tooth paste and the brush again for about 30 to 40 seconds. One can also use the toothpaste twice to get a good effect. It is like greasy hands get cleaner after second scrub with soap.
You can have perfect teeth even at late old age if you (i) consume sweet substances not more than three times a day; (ii) limit to five the total number of times you eat food in a day; (iii) spend 5-7 minutes on an average on brushing; and (iv) use fluoride toothpaste.
The writer is Professor, Oral Health Sciences Centre, PGI, Chandigarh.