Holi Bol!
Pichkaris are water guns, pani ke gubbare are now known as water bombs & gulal has given way to colourful snow & bubbles. Bura na mano, it's Holi the Chinese way!
| | |
| --- | --- |
| SUNNY yellow, sacred orange, pretty pink, vibrant blue, shocking red, and cheerful green. Yes, it's that time of the year again when the mischievous 'you' eagerly awaits a prey to drench him down and right. Heaps of colours at street side shacks, kids' brigade all attentive with their pichkaris, buckets full of colourful water, and loads of water balloons eager to hit the bull's eye — the city is draped in swirls of colours. And in case you haven't ventured out yet, then here's where to get your dose of colour. | Photo by Pradeep Tewari |
Sweet Surrender
HOW can a splash of colours be complete without a bite into desi ghee delights? The colour carnival brings with it many melt-in-the-mouth traditional temptations. Mithai enthusiasts read on.
Art of Architecture
For Maja, this city has a European feel but is still very Indian
TO what extent is it possible to 'see' and understand another culture? If Berlin-based artist Maja Weyermann's 3-D computer simulations at Panjab University's Fine Arts Gallery are anything to go by, it is possible. Of course, one has to have Maja's keen eye and dedication to get to the root of things.
Nightingale from the hills

Ghazal is her muse & nirvana
'Coming events cast their shadows before,' veritably applies to the prodigious singing sensation Seema, who sang her way into the Limca Book of Records in 1994, even before entering her teens. This was when she bagged the coveted 'A' grade from the All-India Radio in vocal. Her versatility came to fore when she cut a gramophone disc for HMV at 17. Credited with a dozen albums, renditions of Sufi music, Shiv Batalvi, Amrtita Pritam, folk and playback in films like Pardesi Babu, she's now working on poet Akbar Allahabadi Photo by Pradeep Tewari

Till 5 p.m. do us part!
Feeling close to your office mate? You are among the city's corporate couples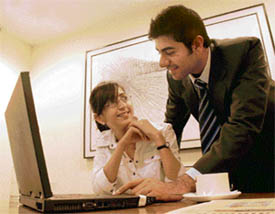 Rajiv is looking out his window, cradling the telephone in the crook of his neck. "You're the best," he breathes into the mouthpiece in a soft purr. "I'd be lost without you. Ok then, see you tomorrow." He hangs up the phone and turns ... to his family. Rajiv, a Gen-Y corporate honcho, is on leave from office. And those sweet, soothing words were meant for Gitika, not his wife but his workmate. The woman he shares his office cubicle and responsibilities with.

Photo by Pradeep Tewari

Carpets contemporaire
The heat is on. The sun is shining it's sizzling best and we're already in the summer-protection-preparation mode – getting AC's repaired,coolers re-fitted, and buying sun-blocks. With all this happening, don't we wanna spruce up our floors? Though it's the clean and bare look that looks best in summer floors, at times bare gets bland.
Her Story
When Madhur Kapila had read out her short story Sukhobai Ka Soch in a literary session sometime back, it created quite a furor for her bold attempt to portray a socially marginalised woman who had the courage and conviction to live her dreams.
Sidelanes
My own khosla ka ghosla
NINETEEN eightyseven -- the year is a black one in the annals of past memory. Nauseated, pale, tired, I went to Bombay to revive sagging spirits. The sickness: A third pregnancy at the age of 44. Overly sensitive to the surroundings, I smelt fish on every wafting breeze, retched over anything that was vaguely limegreen and hung over the basin after biting into a pea.
Workaholic Kim!
SHE came, she saw and she vanished. And then she appeared from time to time, courtesy Yuvraj Singh. That's Kim Sharma, for you. The sizzling, yet innocent Sanjana of Mohabbatein, who is once again on Page 3. Nope, this has nothing to do with rumours of Yuvraj dating Raima Sen, rather it's just about Kim, her work and work only. The cutie will now be seen opposite Aftab Shivdisani in Money Hai Tu Honey Hai. We spoke to Kim on her work, of course.
Little Interview
High on thrill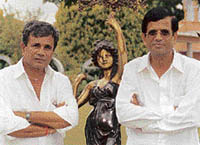 They may be the men in white, but Abbas-Mustan have a penchant for dark films. The soft-spoken director duo's ready with their next racy edge-of-the-seat thriller — Race. They've already proved their mastery over thrillers genre and have a reputation of not typecasting their stars and extracting powerful performances from them. In an interview to the Lifestyle, the director duo talks about their film Race, set in the fabulous locales of South Africa.

Youth speak
We need education
THOUGH the 2008 budget does talk of allotment of Rs 28,702 crore for education, the amount put aside for higher education is less than a third of this. Students of today will shape the India of tomorrow, so it is the duty of the government to provide them with quality higher education. For at present there are only limited superior education opportunities.
Troubled times again!
SINGER Britney Spears has had to give up some of her cars to her dad, who plans to dispose of them permanently. Her father James Spears was granted power by the court on March 17 to "sell or dispose of" an untold number of her seven cars.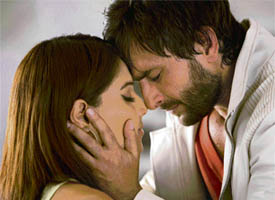 New releases
The Race Begins


Starring: Saif Ali Khan, Akshaye Khanna,
Anil Kapoor, Katrina Kaif, Bipasha Basu,
Sameera Reddy
Director: Abbas-Mastan
RACE is the story of two brothers – Ranvir Singh (Saif) and Rajeev Singh (Akshaye), who live on the edge of life. Their business is horse racing. Winning is their habit and danger is their sport. Set against the high-flying social fabric of modern South Africa, the film is about betrayal and greed, intrigue and revenge.