Kashmiri Pandits
Home at last
The Rs 294-cr Jagti township is among several projects in Jammu and Kashmir that are holding out the promise of a comfortable living to displaced families of Kashmiri Pandits, writes Ehsan Fazili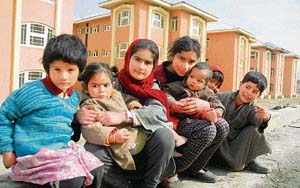 As many as three lakh Kashmiri Pandits have migrated from the valley over the past two decades because of militancy and the Centre as well as state government have been trying to bring them back to their homes. This has led to the launch of many housing projects in the state for these displaced people.

HOMES OF HOPE: Families of Kashmiri Pandits, who have been given new homes in Sheikhpora, Badgaum. — Tribune photo by Amin War
Holy hot spots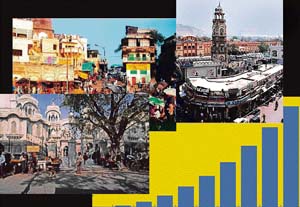 Religious tourism is pushing the realty industry's growth in destinations like Vrindavan, Mathura, Hardwar, Ajmer, Amritsar, Tirupati and Nasik, cities on the fast track and emerging hot spots for real estate developers
Spirituality may seek to wean people away from material desires but it has emerged as a major factor driving India's $15 billion realty industry that is growing at 35 per cent per annum, say industry experts.
Mumbai to have pocket-friendly houses for middle class
Maharashtra's next housing policy may bring some relief to the middle class, with revenue minister Narayan Rane informing the Legislative Council earlier in the week that affordable houses will be made available in all new constructions in Mumbai.
Three-fold gain projected for reverse mortgage mart
The market for reverse mortgage services, under which senior citizens can pledge their property for a steady income, will have a potential of $ 113 billion in India by 2015, nearly triple of the about $ 39 billion now, a report says.
Foreigners can't buy property in Goa
Against the backdrop of cases of foreign land mafia and drug cartels buying real estate in Goa, the state government has banned foreigners from purchasing properties. "It's a policy decision that foreigners will not be allowed to purchase land in Goa," law minister Dayanand Narvekar said last week.
Ansal properties to pay Rs 55 lakh penalty
The Delhi Consumer Commission has directed real estate major Ansal Properties and Industries Ltd to pay a flat applicant Rs 55 lakh, including Rs 30 lakh advance received by it, for denying him possession of his dream home for over a decade.
US interest rate cuts fuel Hong Kong property boom
When first-time buyer Judy Kwan heard a flat was for sale in a street she admired in Hong Kong's Wanchai district, she snapped it up within 24 hours without even seeing it, inheriting a tenant she had never met.
Hospitality for the fair sex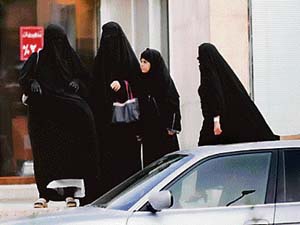 First women-only hotel opens in Saudi Arabia
Riyadh: For a country that goes to such great lengths to segregate unrelated men and women, it took Saudi Arabia a long time to hit on the idea of women-only hotels. The kingdom's first hotel exclusively for females was inaugurated earlier this week. It will offer plush lodgings with a full-range of health and beauty facilities for women to pamper themselves away from the prying eyes of a male-dominated society.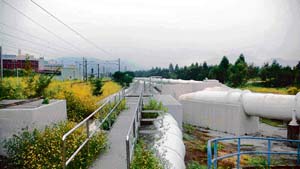 GROUND REALTY
Strengthen water-supply network
Jagvir Goyal lists guidelines that will help those building a house to choose and use PVC materials for an efficient water supply network
The availability of PVC and composite pipes for water supply network in houses has made the choice of material difficult for a house builder.
TAX tips
Interest on capital borrowed for house property
Q. I had taken a capital loan from nationalised bank in March, 2003 for purchasing a flat. And I took possession of the flat in December, 2004. The bank has raised the interest bill for the year 2003-04 towards pre-construction period, which I am claiming at the rate of 1/5th for every year from 2004-05 onwards in addition to the normal interest towards capital borrowed which is less than Rs 1,50,000 i.e. the maximum deduction allowable on account of interest on capital borrowed for house property.
Realty bytes
Oman to have $1-bn healthcare city
Dubai: Majan Development Co (MDC) has become the latest to enter Oman's booming real estate market, announcing that it is planning a 400 million Omani riyals ($1 billion) healthcare city. The proposed integrated city is going to come up in the Omani capital Muscat, according to a report in the Khaleej Times. With an authorised capital of 40 million Omani riyals ($103 million) and paid up capital of 25 million Omani riyals ($65 million), MDC has been founded by investors in the region with The Kuwait-based Gulf Investment House (GIH) holding a 50 percent stake.