Audio scan
Loony songs hit the jackpot
Dakku daddy (Times music)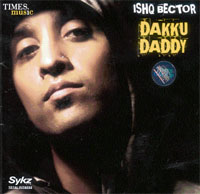 Film songs themselves are getting pretty weird. Lyrical qualities are becoming rare. Rather, they are considered a liability at times. Loony songs have a better run at the popularity stakes.
In such a scenario, private albums have every right to go over the top. That is what this one does with élan. It is the flower child of hip hop "Hinglish" artist Ishq Bector, whose real name is Amitabh Sunil.
Born and raised in Winnipeg (Canada), this artist is currently trying his luck in Bollywood and is creating some buzz. Back in Canada, he was part of a hip hop group called the Frek Sho (pronounced Freak Show)—he being the only Indian in the group. It has six albums.
On reaching Mumbai, he auditioned and competed in the MTV VJ hunt. They promoted him like mad but in the end said that he wasn't "Indian" enough for their viewers. But a producer that he worked with at MTV (Razy), wanted to shoot his video. Thus came Ishq De... step by step.
In the album under review, his long staple diet of Hindi films has been regurgitated in strange forms. The father of the girl who does not want her to meet her boyfriend is portrayed as Gabbar daku in the title song.
Other songs like Aye hip hopper mujhe pyar to kar, Nachna ve nachna and 'Bollywood Chick' are also over the top in irreverence. Most of the lyrics are also penned by him. Take a representative sample and decide for yourself whether it is your cup of tea:
Mista IshQ-a Get Ya! That's why you loving me;
Like Anil Kapoor in Judai;
Living with women is lovely;
But pussycat need to scratch back the jealousy;
Milan had the body of a bahar wali;
Mahi had the heart of a ghar wali;
& me being the cutie that I am;
I put Mahi on my sweaty-pie program(so on and so forth).
Yes sir, that is lyrics for you. I am getting out of here.
* * *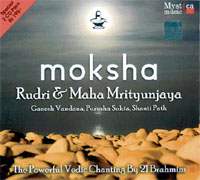 Moksha (Mystica music)
This religious album contains Vedic verses of Ganesh Stuti, Rudri Paath, Purusha Sukta and Shanti Paath, recited by 21 South Indian Brahmins. The album begins with Ganesh Stuti. Purush Sukta, the hymn from the 10th mandala (part) of the Rigveda, is the most hypnotic.
While Maha Mrityunjaya on disc two is well known, Rudri on disc one is not quite so popular. It sings the glory of Shiva, the giver of energy, wisdom and health. — ASC