Six yards of SPLENDOUR
The zip-up saree is yet to catch on. Favoured by youngsters and foreigners, it is still a no-no for the traditionalists, who prefer the free-flowing garment, says Dolly Sagar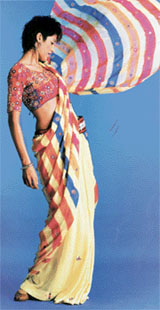 To many of us, the saree symbolises the ultimate in elegance. It can never go out of style. It merely reinvents itself. But with trendy western and Indo-western wear spelling comfort, the saree is often found to be cumbersome — difficult to manage — particularly by young girls. This has led many fashion designers to take up the cause of the easy-to-wear saree.
A few years ago, fashion designers came up with the ideal solution to the problem. They designed sarees which could be worn in seconds. Today, there is a new range of sarees in the market. A ready-to-wear, complete with buttons and zips. You just hop into them and pull them up like your trousers.
This concept was first introduced when sarees and dhotis for children appeared in a ready-to-wear form, fashion designer Sunil Jani says, adding that since, it seemed convenient, manufacturers decided to do the same for adults. The ready-to-wear saree is a great hit with foreigners as well. They are curious about our dresses and the modified traditional outfit suits them perfectly. It has become so popular with foreign tourists that they can be seen at Indian functions in zipped-up sarees and dhotis!
These stitched sarees have panels which give them the fall of a regular saree. All one has to do is zip them up, says Urmila Sen, a fashion designer who was among the first to design such sarees.
Rajen Kapoor, director of a leading fashion house, says: "It is for the people on the move — those who don't have much time on their hands, and these include NRIs and foreigners. Stitched sarees are very much in demand, specially among the NRIs who want that Indo-western look. For them, sarees bring the 'wow' factor. Celebrities like Jaya Bachchan, Jaya Prada, Tulip Joshi and others have also worn these sarees."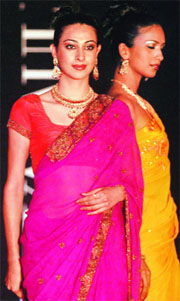 The saree has reinvented itself time and again.
Another fashion diva Janaki Harsha adds that she has been designing them for some years now. "I have been making these sarees, but only on order. Since they have zippers, they have to be made to measure. They are, however, not as popular here, as they are abroad. The sarees that I make have stitched pleats and one just has to drape the pallu," she elaborates. And the global context isn't entirely lost on Janaki as she avers, "If you have to sell in the international market, you have to make stuff that's user-friendly. Anything cumbersome cannot be taken to the international market. Foreigners and even Indian youngsters are not adept in the art of draping a saree. So we have to make the garment simple to wear and carry, to make it popular."
But doesn't this style rob the saree of its original ethnic beauty and style?
"No" says Seema Roye, a designer who caters to a wide clientele in India and abroad. "Let us take the zip-up sarees as another variety of the hundreds of drapes we have in India. Worn in different styles, a saree is a saree after all. The changing trends have brought long, flowing pallus or short, smart pallus or less pleats or extra pleats, etc." "The zip sarees," asserts Roye, "can also be made to match your style. You can have them with less pleats or more pleats. Double pleats on both sides can be made with a panel with a lot of ghera or you can have short or long pallus. You can also have them with halter necks or backless cholis or regular blouses."
While there are as yet few designers who have actually taken up designing these ready-to-wear sarees, many dismiss it as a gimmick. They feel nothing can substitute the six or nine-yard magic. Also, there are bound to be problems too. A ready-to-wear stitched saree cannot be draped any other way. There is just that one fixed style and there is no scope to experiment with different ways of wearing it. Moreover, sarees worn the traditional way require no mending or darning. But with the stitched sarees, if you lose a button or your zip gets stuck, you've had it.
The beauty of the saree lies in its versatility. The way you wear a saree can make you look sober, serious, all covered up, or sensuous and glamorous. Would a stitched saree create the same effect? It may, it may not, but it will definitely be less cumbersome. The choice is yours. — MF