Clash for Supremacy
As India and South Africa clash in the three-Test series, starting March 26, there is a chance that the world might get a glimpse of the men who will usher in a new era of cricket, writes Vaibhav Sharma
After historical feats in Australia, Indian Test captain Anil Kumble had asked his players not to be satisfied with being second best. He wanted the players to celebrate, but also keep in mind that this was their chance to rise, and put some semblance of parity between India's off-field and on-field supremacy over the game.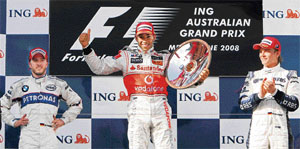 Last man standing
In the end, the Australian Grand Prix was not just about Lewis Hamilton's brilliantly driven fifth career victory, which catapulted him into the lead. It was also about a disastrous debut for Force India, the first Indian team to have entered Formula 1 racing.
Britainís Lewis Hamilton (centre) jubilates on the podium with Nick Heidfeld (left), who was placed second, and Nico Rosberg (right), who finished third, after he won the Australian Formula One Grand Prix in Melbourne on March 16, 2008. Only seven of the total 22 cars completed the race.†AFP photo

IN THE NEWS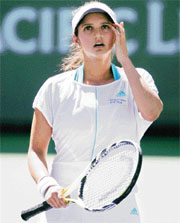 Damsel in distress
Sania Mirza is worried over her recurrent wrist injury as it could either result in a surgery or require her to change her grip and action, an idea she is not keen on at this stage of her career. Sania, who played in pain before losing out to Daniela Hantuchova of Slovakia in the Pacific Life Open pre-quarters, said she would try to avoid surgery but was also not keen on changing the way she grips the racket at the crucial stage in her career. "Right now itís very, very painful.
Sania Mirza reacts to a lost point in her fourth round match against Slovakiaís Daniela Hantuchova at the Pacific Life Open at the Indian Wells Tennis Garden, California. ó AFP photo
Olympics under a cloud?
Pollution-related worries over the Beijing Olympics have been out of focus of late. Not because C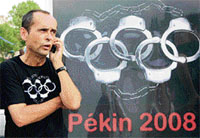 hina has managed to go green within such a short span, but because something more important has been on the dragon's mind. As the Tibetan activists sent a letter to the International Olympic Committee (IOC) demanding the Himalayan region and three neighbouring provinces be withdrawn from the Beijing Olympics torch relay, a new obstacle rose in the already controversy-laden journey for the Asian giant's Olympic preparations.
Violence in Tibet has put the Beijing Olympics in a spot with activists urging the IOC to withdraw Tibetan inhabited areas from the Olympic torch relay. AFP photo