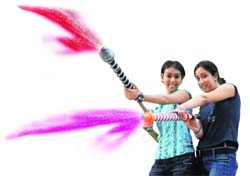 Worked up on Holi!
Corporate giants are adding colours of delight to the lives of employees by organising vibrant bashes across the city
WHAT was until a few years back a day of painting the town red with pals on motorbikes is now fast becoming another occasion to organise a corporate bash. Taking the lead are multinational corporate houses and some of the private educational institutes located in and around the city.
Colour of problems
With colour all around today, it's going to be difficult to stay away from it. However, don't throw away all cautions to the wind while playing Holi. The trick is to take a few precautions.
To new beginnings!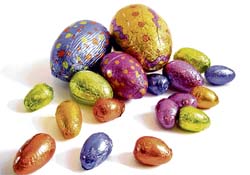 Come, soak in some true Easter spirit
IT'S not Easter yet but we get to bite into a chocolate Easter egg. Even eat a piece of Simnel cake. Courtesy city bakers, who are busy baking Easter-special goodies. So, is Easter too going the Christmas way, motivating our bakers to whip up newer stuff? Well, to quote a few friends from the Christian community, it's not an occasion, which they would like to see get commercialised. But hey, in a city known for its NRI population and globetrotters, one can't totally remain unfazed by what is happening around the world. So lets join the world in Easter celebrations!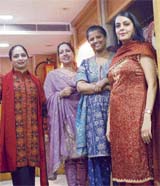 All shopping in the city seems to be going to the designer dens. And rightly so. For, what is fashion if it stays on the catwalk?
SO, who are you wearing this season?" The query (accompanied by a raised brow) came hitting at supersonic speed the second I entered this friend's wedding. Here, I'd been expecting this Stu-C gang's reunion to be chock-full of fond reminisces, inane jokes and toasting the good times together. And there I was, being asked about my designer label of all things! But then, this happened two years back, and of course, in Delhi. Today, when I see the same query being tossed around feverishly at social dos in town, fast replacing those social niceties/greetings (how's life going/ how have you been?), I handle it well (experience is the best teacher, you see).

Inner engineering
YOU have engineered a winning "nine-to-nine" career for yourself in the hectic corporate world. Now, it's time for you to establish "meaningful and fulfilling relationships at work, home, and in the community" through "inner engineering".

Power puff girls
Breathe easy in puff sleeves & balloon skirts
Those body-clinging halters make you mutter the choicest abuses under your breath (why on earth weren't you born size 0?). Trying on a pencil skirt makes your eyes (and bulges!) pop out. And slipping into those slinky, sexy dresses seems quite impossible. Well, this has been almost every city-gal's fashion woes.

Ready for motherhood
Oscar-winner Charlize Theron may soon be following Angelina Jolie, Nicole Kidman and Jennifer Lopez into motherhood. The Monster star recently revealed that she is ready to start a family with her leading man Stuart Townsend.

Telly Tales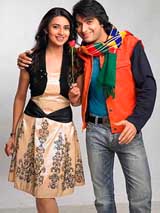 Life goes on...
OSO maybe a thing of the past, but it has given our soaps ample food for thought!
You simply adore that bindi-wearing, sari-clad telly bahu, who comes to your living room every evening. Her trials and tribulations get you tensed, her mushy dooh-daas melt your heart (sort of) and her tears evoke anger towards her oppressors. Yes, you've had your evening tea, biscuits and daily dose of gupshup with her for 205 episodes now and are still asking for 'more'… More? Did we mean that 'more'? Not actually, but it's the directors and producers of these telly soaps, who vehemently believe so. No wonder, they want to breathe their last sigh, shooting for the soap (think Kyunkii… Kumkum…Kahani… Saat Phere!) they started their careers with.
Choices galore


His appearance in Black & White wasn't surely the blink-and-you-miss variety
TELEVISION is beckoning him like never before. But Vikrant Chaturvedi wants to pause and think — which way to go — TV, stage or 70 MM screen? "No, I am not going to take too long, lest all of them slip away," he laughs. "But yes, I am at the crossroads right now," says a happy Vikrant over the phone. Happy, because his recent release Black & White got him flooded with calls from producers, directors and well wishers.
Little Interview
Cheering up dada-dadi, mummy-papa and bachas are Mauli Dave & Sharad Kelkar. Anandita Gupta chats up telly's newest anchors
Romantic & empathetic
He may not be our conventionally tall, dark and handsome Mills and Boon hero, but nonetheless, he's a ladies man. Strikingly handsome in his own unique way, this Maharashtrian is as romantic in real life as in his serial Saat Phere. Playing dusky Saloni's doting hubby Nahar, MBA-turned-model-turned-actor Sharad Kelkar has added yet another feather in his multi-plumed cap. Having anchored Zee Dubai's Antakshri last year, this Grasim finalist (2002) is now anchoring Zee's Rock N' Roll. We chat him up on the experience:
City children say bye-bye to teddybears & cuddly dolls, hello to virtual toys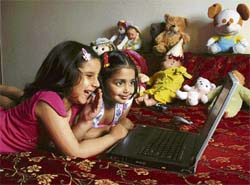 Games Kids Play
The last time I visited my best friend's daughter's room, there was something missing. After wondering for hours why wasn't it looking like a kid's room, I realised that despite the paraphernalia of all things fancy (read painted theme-walls, funky floor cushions, Ludo bed sheet and animal-print curtains), the 'feel' of it was missing. There wasn't a single pile of time-honoured storybooks, no classic fairytales, and well, no toys – furry fluffy teddies we couldn't sleep without, cuddly dolls.
First Day First Show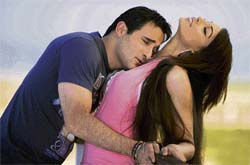 Headspinner all the way!
Race watchable
LET'S say it upfront. Allah duhai hai should be our and not Saif and Bipasha's chorus. Can we belt out anything else in the middle of an audio-visual assault of men-in-white variety (directors Abbas-Mastan)? There are as many twists and turns in the story of Race as are contradictions in the persona of the filmmakers. They 'believe' in simplicity ("We wear white clothes because we like to be simple," the duo told an interviewer on the eve of the film's release!).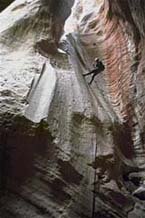 STEP OUT
Rocking among boulders
THE end of winter and the short Indian spring is the best time for rock climbing. The daytime temperature outdoors is pleasant; it's not too cold or windy, and you can enjoy climbing with the sun on your back as you swarm up an easy rock face or muster strength and technique to surmount a difficult one. In the middle of a day of rock climbing, you can take a break and unpack your lunch. After picnicking on a boulder, you can rest a while and even snooze on a mat before resuming climbing. Or, the latter half of the day can be given over to rappelling (lowering yourself down a rock face quickly via a rope) which is less strenuous and more fun for beginners and the less accomplished climbers.