M A I N N E W S
Olympic Games torch lighting
Protests mar ceremony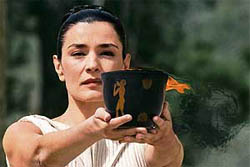 The Olympic flame being carried for the torch lighting ceremony by Greek actress Maria Nafpliotou, playing the role of High Priestess, at the site of ancient Olympia in Greece on Monday. — Reuters
Beijing, March 24
The traditional Olympic torch lighting ceremony in Greece was today marred by mounting protests against the Chinese rule in Tibet, as Beijing vowed to carry the flame to the world's highest peak, Mount Everest, as planned.
Tibet activist groups have called for stopping the Olympic torch relay from passing through the restive Himalayan region swamped by the Chinese military to crush the most volatile protests against its rule since 1989.
The ruling communist leadership has promised the international community that it will ensure a smooth run-up to the 2008 Summer Olympics. Beijing is keen that a successful games will bolster its international image.
Despite strict security arrangements, two demonstrators ran onto the field at the Ancient Olympia in Greece during the flame-lighting ceremony, which was showed on Chinese state television with some delay.
Cameras abruptly cut away when a man carrying a black flag with handcuffs used to symbolise the five Olympics rings ran behind Liu Qi, president of Beijing's Olympics Organising Committee and Beijing Communist Party secretary, while he was giving a speech. The police detained the two men, media reports said.
Officers also detained one Tibetan campaigner and a Greek photographer with him just outside the venue.
Apprehending trouble, around 1,000 police officers were deployed in the ancient Olympia, where the games originated 3,000 years ago, for the traditional torch lighting ceremony.
The torch is to arrive in Beijing on March 31. The flame is to be carried through 20 countries, including India, to the 8,848-metre high Mt Everest in Tibet in May for the Games that will begin here on August 8.
Ahead of the ceremony, the head of the International Olympic Committee (IOC) said there was "no momentum" for a boycott of the games, but hoped that China would change by opening the country.
"The major political leaders don't want a boycott.... There is no momentum for a boycott," IOC president Jacques Rogge said.
The Olympics, he said, while "not a panacea for all ills", were a force for good that could prompt change.
China has repeatedly accused the Dalai Lama of having masterminded the riots targeting the Olympics, but the leader of the Tibetan government-in-exile based in India has refuted the charge saying he supported Beijing Olympics.
China said today that five persons had been detained in two arson cases during the Lhasa riots. Officials have said that at least 26 persons had been arrested in Lhasa and over 170 persons had reportedly surrendered.
The Tibetan authorities have pledged to take security measures to protect the Beijing Olympic Games torch relay against sabotage by supporters of the Dalai clique, state-run the Tibet Daily said today.
"Preparation for the relay in Tibet and taking the Olympic flame to the summit of Mt Everest is proceeding in an orderly way," official Xinhua news agency said. — PTI