M A I N N E W S
Landslide win for DPT in Bhutan poll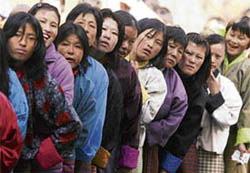 Bhutanese voters stand in a queue outside a polling station to cast their ballot in Thimpu on Monday. — Reuters
Thimpu, March 24
The Druk Phuensum Tshogpa (DPT), led by former premier Jigmi Thinley, said to be popular among the elite and well educated, today scored a landslide victory in the first elections in Bhutan that marks the end of absolute monarchy in this Himalayan kingdom.
DPT, several of whose candidates have been ministers under the King Jigme Khesar Namgyel and have experience in the government, made a virtual clean sweep bagging 44 out of the total 47 seats in the National Assembly.
The total voter turnout was 79.4 per cent, chief election commissioner Kunzang Wangdi said.
People's Democratic Party (PDP), the only other party contesting the polls, managed to get 3 seats. PDP is headed by Sangay Ngedup, who is a former two-time Prime Minister in the old royal regime and is the brother of the four sisters and queens who are married to former King Jigme Singye Wangchuk.
Electronic voting machines from India were deployed in the elections that ushered in the world's newest democracy.
Announcing the results, Wandgi said the notification of the results would be issued tomorrow.
However, this was not a vote against the much-loved King of Bhutan or a century of royal rule, many people had said they were reluctant to embrace democracy, and the winner of the elections, Jigmi Thinley, was himself a staunch royalist. — PTI

Woman treks for 14 days to vote
Thimpu, March 24
Call it enthusiasm or sheer love for the country, a 65-year-old Bhutanese woman has trekked 600 km with a walking stick and rubber slippers to cast her vote. Tshewang Dema took 14 days to reach Trashiyangste from here.
"It was a long walk, only after people started expressing their amazement that I felt that I had achieved something," she was quoted as saying by Bhutan Times.
But Dema claimed she had no intention of "walking into the record books".— PTI