Cancer not the end of road
Aditi Tandon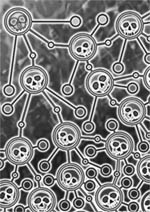 The world could well have come to an end. But it did not. Two years after Ajay Tulli saw his wife being clutched away by cancer, he finds time to smile and help others see cancer as it is – just another disease. Of course, it comes with its package of fear and procrastination, which make coping with cancer a disease in itself.
But in the region, some cancer survivors and their families have been beating cancer at its own game — by keeping faith, smiling and respecting life while it lasts. They have all suffered post-detection trauma and found ways of overcoming it. The best way out is knowing what one is dealing with, and ducking fear, which stems from half-truths and ignorance shrouding the disease.
"It is not contagious. More importantly, most cancers can be effectively controlled to keep the patient free from disease and enable them to lead near-normal lives. We have hundreds of cancer survivors in our group. Only my wife, the founder, was not lucky," says Ajay, whose wife Neelu in May 1997 set up Sahayta Cancer Sahyog to foster an understanding of the disease, still dreaded like hell.
The group was Neelu's emotional reaction to her sister's cancer affliction. She did not have the slightest idea that malignancy was affecting her own body as well. One day, she reported acute pain in her legs. Within days, malignancy was confirmed. Neelu had defied medical history by reporting cancer of the uterus without reporting its symptoms. What followed was a saga of trial for the family — shocked at the irony of the situation.
But we made it easy for her, says Ajay, remembering how hard he worked to keep the fear of death at bay. The most difficult phase for patients, as revealed by interviews, is the period of radiotherapy/ chemotherapy. At the PGI, Radiotherapy department in Chandigarh, which functions from Monday to Saturday (10 a.m. to 11.30 a.m.), Sahayta volunteers apprise patients of the treatment's aftereffects, which can be very undermining (especially for patients of breast cancer).
Treatment may be followed by changes in the skin such as redness or soreness. Mouth may become sore; hair on the exposed part may fall out. Loss of appetite, difficulty in swallowing, pain in the abdomen and loose stools are other problems accompanying radiotherapy.
"We tell the patients and their families that these are normal reactions to treatment. Taste problems can be handled by trying out cold foods, having chewing gum or cloves, eating fresh fruits and sipping as much liquid as possible. Sore mouth can be avoided by having foods with extra butter, gravies, etc. A room humidifier is helpful to prevent dry mouth. Nausea is normal and can be controlled by eating slowly and chewing food well," says a counselor with Sahayta, which also holds cancer clinics at the PGI's paediatric oncology OPD in the Advanced Paediatric Centre on all Fridays from 10.30 a.m. to 12 noon. At the hematology department, the volunteers are available every Monday from 10 a.m. to 11.30 a.m.
Answering questions for the families of cancer patients is an important psychological approach to cancer treatment, says Ranjana Tulsi, detected with breast cancer nine years ago. She is a survivor, one of the hundreds who have joined Sahatya to build bridges between sufferers and survivors.
Cancer Insurance
The Indian Cancer Society offers India's only insurance policy against all expenses of cancer diagnosis and treatment. For just Rs 200 a year (no charges for the poor and needy), both you and your spouse can get Rs 40,000 worth of coverage. This is good enough for expenses involved in diagnosis, chemotherapy, radiotherapy, surgery, medication and rehabilitation. For details, write to the Indian Cancer Society, Q 5-A, Jangpura Extension, New Delhi (011-4629572).
Sahayta Cancer Sahyog
Runs cancer clinics at the PGI, Chandigarh; sponsors treatment of needy patients; provides mastectomy bras and prosthesis, runs a toy bank at the PGI's Advanced Paediatric Centre for cancer-afflicted children attending OPD clinics. Contacts – 0172-5060002; 9316120808.