Hello, tunes
The music industry offers plenty of career choices
from singing to sound management
Today, when doctors leave their profession to become singers, Palash Sen and would-be engineers like A.R. Rahman are flourishing in a field that 10 years ago was discouraged. This means that the performing arts in India have come of age. A.R. Rahman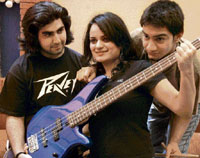 Rocking start
His mother was unhappy with his decision to sing professionally for a rock band. Many years down the line, Palash Sen, a qualified medical professional, is a household name as the lead singer of Euphoria. Like him, scores of youngsters in Delhi and elsewhere today want to make a career out of music by forming their own rock groups or joining the numerous ones that have mushroomed in the city.

Members of the Crimson band in a rocking act. ó Photo by Parvesh Chauhan


Careercature
Sandeep Joshi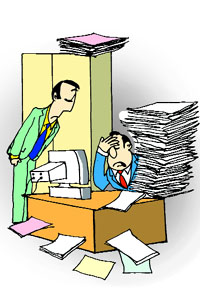 I canít find the memo requesting permission to attend another stress management course.

The job stinks
Office conditions leave room for improvement
Forget salaries, expense accounts or keys to the executive washroom. Employee loyalty is often won or lost over the cleanliness of the bathrooms and the amount of sticky goo on the carpet.
Labour pains
The labour force in the country is growing at the rate of 2.5 per cent per annum, while employment growth is estimated at only 2.3 per cent. This means that India will have to handle the challenge of not only absorbing new entrants to the job market but also clearing the backlog.
Defence officers at IIM-A get 100 per cent placement
Armed for a corporate career
The third batch of the country's Armed Forces undergoing a management course at the Indian Institute of Management (IIM), Ahmedabad, has achieved almost 100 per cent placement which was not the case with the first two batches.
Tailor a defence resume to fit civilian job
After a 22-year career in the Army, Garth Hahn is seeking a management position in telecommunications, possibly at a defence-related company.
Interview intelligence
Interviews are perhaps the most stressful part of any job search, but a few hours of preparation can go a long way toward quelling some of your anxiety. That time can also make it more likely that you will get the job.

Career Hotline
Fund raising
Q. I have done MBA with a specialisation in finance. At present I am working with ICICI Securities. I am interested in becoming a fund manager. I want to know what are the special skills required to be a successful fund manager. ó M.L. Gupta