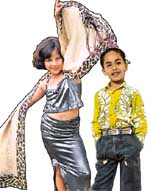 They may have barely learnt to walk, but they sure are all set to strut their stuff on the ramp!
Anandita Gupta
HER pout could give Angelina Jolie stiff competition. Her CV flaunts a shapely figure — Height: 3'-2". Weight: 20 kg. Vital statistics: 16-13-16. She's religiously regular with her swimming and cycling sessions. Her weight-watching ritual could put Size 0-aspiring-Bebo to shame. And yes, her lil' pockets hold not lollies but plum assignments. That's city-based , all of four. And what's more, she is not the only one.

STARRY EYED: Anushka Bindra & Aryan Sharma
Photos:Pradeep Tewari

Enlightened Blackout


Enough lip service on global warming! If you care, turn off lights at 8 p.m. tomorrow
Purva Grover
OUR country is not officially part of it, but a bunch of city youngsters believe they can make a difference. So, when they contacted us to help spread awareness on global warming, we not only agreed but joined in too.
New releases
One Two Three
Mafia on a Roll
Little Interview
Comedy n' Nikki


FOR Tanuja's daughter and Kajol's sister Tanishaa, recognition has come after a long time. After a non-happening debut in Bollywood and some films like Tango Charlie, Popcorn Khao Mast Ho Jao, Sarkar and Yash Chopra's Neil and Nikki, Tanishaa is tipped to be a show stealer in the debutant director Ashwani Dheer's comedy with an edge One Two Three. With the film's release this week, she's hoping to consolidate her acceptance as an actress of substance. Tanishaa talks to Life Style about her film and the forthcoming projects.

youth speak
Vivek Singla
Trust your Child
WHY don't the parents understand if their child falls in love? Is it that they fear that the child will not take care of them in their old age or they don't trust the child to be mature enough? Why can't they realise that it is easier to lead a happy life with complete understanding with the person you love rather then adjusting with a stranger? When a child is capable enough to take decisions and understand the value of life, shouldn't he be allowed to choose his partner?
Demi's beauty secret
American actress Demi Moore has revealed her secret to looking sexy even at the age of 45 — medical leeches. Demi revealed on Tuesday March 25, on the Late Show With David Letterman, how she went for body cleansing to Australia, and how the treatment included a leech therapy.

Punjabi perfection
He is the charming schoolboy of Hip Hip Hooray who made girlies go weak in the knees. And she is telly's peppy Punjaban. Purva Grover speaks to the duo on the ghost tale, telly & more
THIS Punjaban is no different from our other Chandigarh kudis. She grew up admiring her mom and masi(s) sporting lovely dresses, exquisite jewellery and wonderful make-up, and developed a liking for all things bright and beautiful.
Parsi Philosophy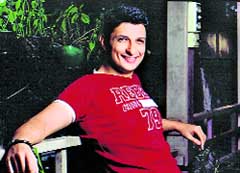 MANY a hearts would skip a beat each time the sports captain of D' Nobili High School would come on the screen. The unusual cute looking Rushad Rana aka Raghav was for sure one of the reasons behind our sitting glued to Hip Hip Hooray. But, that was way back in 1999, talk today and the Parsi guy is not only secured a place in Indian hearts but is eyeing a place in the living rooms across the border too. Unfortunately his recent most venture Don would be on air in Pakistan, Dubai and London and not on Indian television.
National art, local platform
Parbina Rashid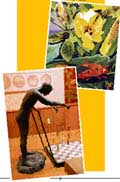 IT took quite a few years of persistence by our artist folks to convince Lalit Kala Akademi to hold their national exhibition in the city. So, the inauguration of the 50th exhibition of the Akademi on Wednesday evening gave us enough reason to be proud of. One, finally the Akademi had agreed. Two, it's been proved that the city has a strong local support base to hold an exhibition of this magnitude. Three, for us, this exhibition gives a panoramic view of the latest that is happening in the Indian art scene with 119 artists showcasing 135 works of art. Though sadly enough, only one entry from Chandigarh has made it to the show — Ajay Kumar Pande's untitled wooden sculpture that depicts the struggle of life.
Photos: Vinay Malik
Sidelanes
Joyshri Lobo


Goa's Scarlett waters
GOA, the family paradise in India, has been tarnished. Remo is ranting. Oscar is as balanced and calm as ever. Naik is speaking from a holier-than-thou pedestal and Kamat is hiding under every dusty carpet he can find at the beautiful secretariat on top of the hill at Porvorim. No one has yet found a solution to the problems that come with Goa's economy — the tourists.