Punjabi antenna
Sports in the shade
Randeep Wadehra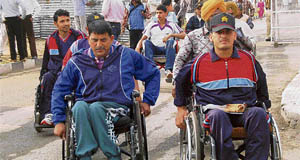 During the recent Congress vs Akali-BJP cricket match at Mohali, the camera mainly focused on politicians. It panned occasionally the physically challenged invitees
The fifth edition of annual music awards telecast on ETC Punjabi on March 18 once again raises the issue of their utility to the region. Like umpteen award-giving set-ups in Hindi cinema, is this one too an exercise in self-promotion by the organisers? How do these awards help genuine talent? And, if the purpose is really to promote artistes in Punjab, then music needs the least support. Going by what one sees, rather misses, on the small screen is drama, documentary and movies that should be given a leg-up.
Its a clich`E9 but television is a powerful medium and cricket a great crowd-puller-cum-opiate; further, Twenty20 is the latest craze if only for the fact that the men in blue are current world champs in this version. This potent combination didnít go unexploited by Punjabís politicos. They held a Congress XI versus Akali-BJP XI T20 match at Mohali, which was duly telecast by Zee Punjabi. Although the camera understandably focused largely on politicians and partly on spectators, it also panned occasionally the physically challenged invitees to buttress the organisersí claim that they were holding a charity match.
But this wasnít the only reason touted for the show. Then there was this news clipping of Punjabís sportspersons being honored. All one saw was a less than 10-second shot of happy recipients and more than a minute-long footage of a garlanded Sukhbir Badal being honoured by an official.