INTERVIEW
'I am a learning actor'
Sonu Sood, the tall, handsome Punjabi is making a mark in Bollywood. Whether as Sujamal, the affectionate Bhaisa in Jodhaa-Akbar, or Abhishek Bachchan's brother in Yuva, Sonu is here to stay. Shoma A. Chatterji in a tete-0-tete with the actor
Where do Sonu Sood's roots lie?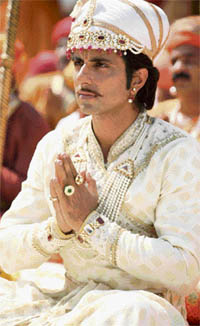 Sonu Sood as Sujamal in Jodhaa Akbar
I am from Moga in Punjab. My father is a businessman and my mother is a professor of English and History. Among the three children, I am the only son. After school, I did electronics engineering in Nagpur. I did modelling for some time in Delhi. But there was this desire to reach out, to do something more relevant and lasting, which could only happen in Mumbai. Though my family has no connection with films, my parents have been extremely supportive.
Why did you move to films in the South when you did not know the language?
Working in Tamil and Telugu films, two of which were big hits, was like manna from heaven. The industry in the South is technically very competent and it gave me a good learning experience. Language does not matter especially with the sophisticated dubbing techniques available. Besides, they kept me from signing films indiscreetly in Bollywood and ending up nowhere. When many of my Bollywood films flopped, southern films helped me hone my acting skills. Sheesha, Siskiyan, Aasihque Banaya Apne, Boom are some of the Hindi films in my portfolio. They had to happen to make me wiser.
And then came Bhagat Singh?
I played the title role under director Iqbal Singh. Among those who watched Bhagat Singh and Yuva was Ashutosh Gowariker. I have been lucky to work with some of the best directors in the industry. Mani Ratnam, who directed me in Yuva, had seen my Tamil films. I had initially given myself a year to see if I could fit into films. It's been 11 years and I am still here.
How did you prepare yourself for your role in Jodhaa-Akbar.
Ashutosh Gowariker made my day when he said, "I can see only you doing Sujamal and no one else." While shooting for Jodhaa-Akbar, I committed myself exclusively to this film for one year. My mother, Dr Saroj Sood, an academician, got me books on Mughal history from her college library. She read them herself, asked me to go through some parts and gave me inputs. She has played a pivotal role from outside the film team to contribute to my performance. Ashutosh too gave me a couple of books to read. By the time we were ready for the first shooting schedule, I knew Sujamal very closely and then, everything fell in place.
But what about the swordfights, action scenes and riding shots?
I had done some sword fighting in college and we all`A0trained in these skills much before the shooting began. I am ever willing to learn. We practised a lot. I am a disciplined person. I am a confident actor because I never allow get complacent.
Weren't you over-awed by your co-stars?
When we are performing, we are characters, not actors. So the stardom hierarchy does not come in front of the camera and on the sets. For Jodhaa-Akbar, the co-actors helped. Aishwarya was exceptionally warm and cooperative.`A0She is one of the greatest co-stars one can have. We shared a common ground because I had acted with Abhishek in Yuva and I was acting with her in this film. She still calls me Bhaisa.
What projects are you working on?
I am doing the lead role in Rajshri Films' Ek Vivaah Aisa Bhi opposite Isha Koppikar. It is about a man who dreams of making it big as a singer which brings him from Bhopal to Mumbai. The other big project is Singh is Kinng directed by Anees Bazmi. It is a fun film where Akshay Kumar is Singh and I play Kinng. Kinng is a multimillionaire don who lives in Australia. Singh is a simple Punjabi boy. What happens when the two are in Australia makes for a lot of fun. I am looking at other scripts too. Meanwhile, I am still working in Tamil and Telugu films because they have made my face familiar in the south and I love their efficiency.
Have you been able to come out of the Sujamal persona?
No one in this industry can keep resting on past laurels and must look forward to better films, better scripts, and better roles. I am a learning actor. Every director has his own take on things, his way of handling a film, character and script. I go for a role that gives me a kick. I look forward to working for different directors. Everyday, after your work on a set is over and it is pack-up time, you would want to take something new back home with you. Every assignment I accept must be exciting enough to make me want to get up early in the morning and go straight to the shoot. I have decided not to do any film that I may later regret. I have had my share of the uphill climb, the sweat and the tears. But there is that pot of gold at the end of the rainbow. You must reach there yourself. It will not come to you. — TWF