Period jewellery back in business
The youth of today has taken a fascination for jewellery once worn by kings and queens,
says Anju Munshi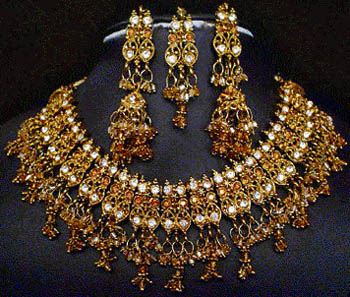 Bollywood serves as a perfect platform for India's ethnic jewellery
Can one imagine an Indian bride without elaborate jewellery? On occasions like weddings and other related festivals, Indian women prefer the traditional and the ethnic look. Traditional crafting in gold, precious stones and diamonds in meenakari and kundankari has been an integral part for all festivals and family-oriented occasions. Now these old style jewelleries are back with a bang. The historical aura associated with jewellery, which was once worn by only kings and queens, is now back into fashion.
Period jewellery is back not only in our country but also abroad for its sheer beauty and rich history. For an NRI, it is a matter of pride and for non-Indians it is a slice of Indian culture—an experience of going back to an era long gone when kings and queens ruled the country.
Add to it Bollywood's influence promoting traditional jewellery. The result is there to see. Fashion shows by Indian designers in hubs like Milan and New York and the increasingly popular Bollywood films have taken Indian jewellery beyond the shores of our country, bringing alive the richness of our heritage. Sanjay Leela Bhansali's 'Devdas', Pradip Sarkar's 'Parineeta' and Bengali films 'Chokher Bali' and 'Antarmahal' by Rituparno Ghosh have created a strong appeal for handcrafted Bengali jewellery. Traditional Rajasthani jewellery designs have got a boost in modern times with Shahrukh Khan's 'Om Shanti Om', and now Ashutosh Gowariker's 'Jodhaa Akbar'. As a result, there is a great demand for 'Chokher Bali' earrings, 'Parineeta' necklaces, 'Devdas' armlets and waistbands, 'Shantipriya' hairpins (courtesy OSO) with attached jhumkas, and last but not the least Jodhaa Akbar's jadau and kundan collection.
Ornaments with kundan work, famous from Rajasthan, is combined with enamelling, so that the particular piece of jewellery has two equally beautiful surfaces—the precious stones set on the front side and enamelling at the back. Necklaces are attached to strips of velvet, which not only proves comfortable but also prevents friction with skin and at the same time preserves the enamel. "Traditional kundan jewellery is extremely practical and that's why it never goes out of fashion," says jewellery designer Rashmi Chawcharia of Kolkata.
Indeed, Bollywood serves as a perfect platform for India's ethnic jewellery. Opulent sets, the colourful six yards that create the magic of the saree, coupled with beautiful jadau and kundan jewellery, create an aura that is hard to resist. With this new interest, a different segment of jewellery researchers has emerged, which turns out authentic period pieces. It is also a welcome change to see the focus shifting from Italian setting of the stones to the Indian way of setting. Monica Chawala, who stays in New York, finds it heartening to see American and French women wearing jadau necklaces, hathphool and belly chains with their western attires.
Period jewellery for films like 'Parineeta', 'Chokher Bali' and 'Antarmahal' were designed by Kolkata-based jewellery house Anjali Jewellers. Since then, claims the management, women have been clamouring for copies of the pieces. Even visitors to the city look out for the designer outlet. Says Ananya Chowdhury, proprietor: "After these films the store recorded a rise in demand for elaborate anklets and accessories like tikli, armbands, waistbands and, of course, big round earrings."
Today, wearing Indian jewellery pieces with western wear is no fashion hara-kiri either .You can safely match a jadau choker, Bollywood kundan earrings, elephant-head bangles, belly chains, hair accessories, mang tikkas and anklets with your western couture. —TWF