TELEVISTA
Highs and lows of Holi
Amita Malik


Amita Malik
Indian festivals are colourful and joyous, but they can be dangerous. Holi last week has left its trail of car and other accidents arising from people getting inebriated as part of the celebrations. Divali has its share of children getting injured with fireworks. Even visits to temples can become dangerous when panic leads to stampedes. But all this does not prevent people of this festival-happy nation from enjoying themselves. For the poor, in particular, it is an occasion to have fun without getting out of pocket. Radio and television channels find festivals a heaven-sent opportunity to break the monotony of news, films and sport.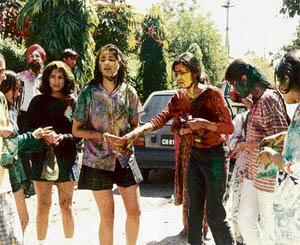 Youngsters seldom take precautions while celebrating festivals... be it Holi or Divali
Let us not forget politics. L.K. Advani visiting Sonia Gandhi with his wife to offer Holi greetings made the best of both worlds. As usual, Lalu Prasad Yadav was in his element in his home town Patna, getting smeared and smearing everyone in sight, and even indulging in the ancient Holi sport of kapra phaar (tearing the clothes). Again, how we enjoyed the sight of women of Mathura beating up their men in their annual moment of freedom. It was near enough to International Women's Day to make a point.
But as I said, festivals can be dangerous and, as usual, it was young men driving cars, in one instance a young man driving his grandmother to a temple, who lost their lives tragically. Both newspapers and TV screens gave us our fill of horror photographs, showing the mangled remains of cars and three-wheelers. One would like these horrific visuals to give a lesson to people to avoid driving while under the influence of liquor. But it usually is a case of "I am quite sober", like that advertisement we see on the screen; the other famous last words being: "It happens to others but not to me".
So our Holi weekend on the media became, as usual, a mixture of joy and sorrow. Crime of passion also dominated the week's viewing. A young man in Bangalore, a talented Infosys employee, suspecting his wife of infidelity, smothered her to death and then hung himself. The Scarlett Keeling affair continues to drag on with unending twists and turns. Was there nothing, really nothing to catch our interest for healthier reasons?
For this columnist, and I dare say to all of my generation and film buffs of all generations, the long documentary on actress Merle Oberon, made by Australian television with inputs from other networks, made for fascinating viewing. I mentioned my generation because it was well known to us at the time that Merle Oberon was really Queenie Thomson, born an illegitimate child to a Chinese mother, who had her roots very much in India, notably Kolkata and Mumbai, and her pretensions of being a Tasmanian fooled nobody except herself.
There was, for instance, her uncle in Mumbai, proudly telling his neighbours that Queenie was really his niece. Her sexy slanting eyes, a large part of her stunning beauty, was a part of her Chinese mother's heritage. But as we followed the extraordinary story of her life, from humble beginnings to top stardom, much of it connected with India, including her early stint in Kolkata as Queenie Thomson, we could at least take pride in the fact that she originated in India, even if her film, Bhowani Junction,was one of her least successful ones.
The last irony was how, to prove her antecedents, she made a cursory visit to Tasmania at the fag-end of her life to show her mythical origin there, and how it simply did not work, because no one remembered her.